In this Kajabi review, you're going to learn how you can use this online course platform to create and sell your digital products.
I'm going to do a full breakdown of all the Kajabi's features explaining to you how each one can help you with your business goals.
You will see how you can use Kajabi to create digital products, create offers to sell, receive payments, create landing pages, website, and blog, create sales funnels, email marketing campaigns, and more.
Because this marketing platform has been created mainly for course creators and coaches who want to sell their knowledge online.
Besides, in this Kajabi review, I'm going to discuss their support and pricing.
Kajabi Features Review:
Kajabi has extremely powerful marketing features that help people create and sell online courses and memberships.
And since people sign up for course platforms for their features, I wanted to discuss them first in this Kajabi review.
With its help, you can host your online courses, create offers for your audience, build landing pages, sales pages, and funnels, and even whole websites.
Not only that, but Kajabi also takes care of email marketing and marketing automation for you and helps you convert your leads into customers.
In this section, we're going to look at all the features and marketing tools that Kajabi has to offer and how business owners can use them to create and sell online courses.
Products Review – Kajabi makes it extremely easy to setup and sell your digital products even if you don't have any technical experience.
Within minutes you can create anything from online courses, evergreen training, membership sites, coaching programs, mini-courses, and even Facebook-like communities.
Then you create your course, Kajabi has a ready product outline that you can use.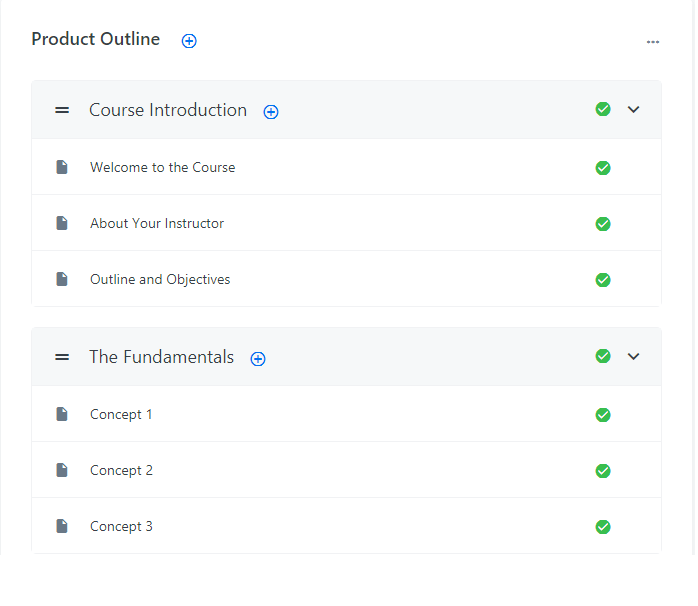 So all you need to do is rename your categories and posts or add more of them if you need them.
This makes it super easy to setup your online course content or your membership site within Kajabi.
To do that you just need to create or edit a post.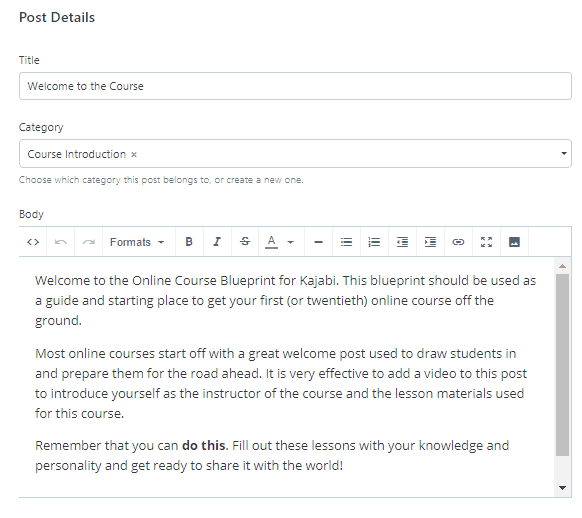 And you can easily add videos or assignments with just a click.
Kajabi also allows you to add a bulk of videos to make it easier for you to upload your online course content and so you don't waste too much time.
The videos are actually hosted automatically by Wistia thanks to their native integration with Kajabi.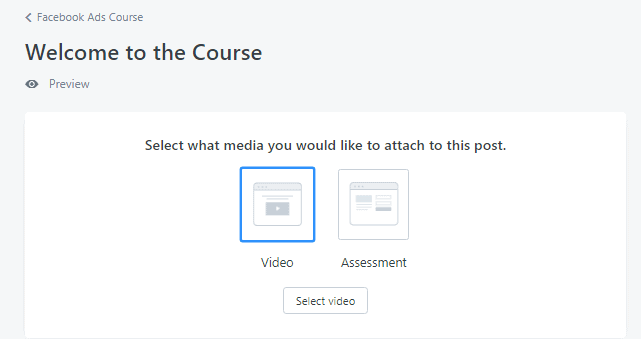 All of this makes it extremely easy to start selling online courses with Kajabi.
Offers Review– in Kajabi these are one or a combination of a few products that you sell together to your customers.
With this function, you can assign a price for your offer.
Kajabi gives you the option to choose how you want to be paid:
With a single payment
Monthly subscription
Enrollment fees
You can even make the product free
And you can even assign upsells to increase the average order value when selling online courses with Kajabi.
In case people leave before completing your order, you can setup an email reminder to be send and to remind them to come back and purchase your product.
With Kajabi you can also add automation to be triggered when specific conditions are being made. Like a successful or failed purchase. 
And what to do when this happens – to send an email sequence, assign a tag, grant an offer, send a coupon, etc.
After people purchase within Kajabi, you also have the option to setup a date when the product will be made available to them or restrict access for a certain amount of days. 
Payments Review– Kajabi integrates with Stripe and PayPal and it allows you to process payments directly from the platform.

And the good thing is that there is a 0% transaction fees for using their payment gateway. But you will still have to cover PayPal and Stripe fees as listed on their websites.
At the same time, with Kajabi you can easily pick up any payment option that you want to have.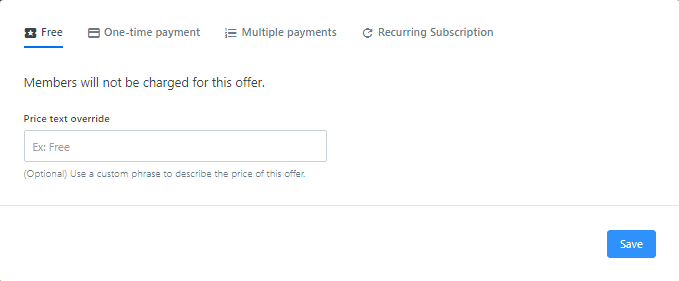 You can make your product free, charge one-time payment, multiple payments, or make a recurring subscription.
Besides this, you can easily setup upsells offers so you can increase your customer lifetime value.  
In other words, Kajabi gives you all the tools and options you need to collect payments and replace current marketing tools you're using like InfusionSoft, SamCart and WooCommerce. 
Websites & Blogs Review – With Kajabi you can create a fully functional website and a blog without the need to write a single piece of code.
This is one of the most powerful features of this course platform so that's why I wanted to discuss it in this Kajabi review.
Kajabi gives you 6 beautiful themes to choose from for your website. You also have the option to upload a custom theme of your choice.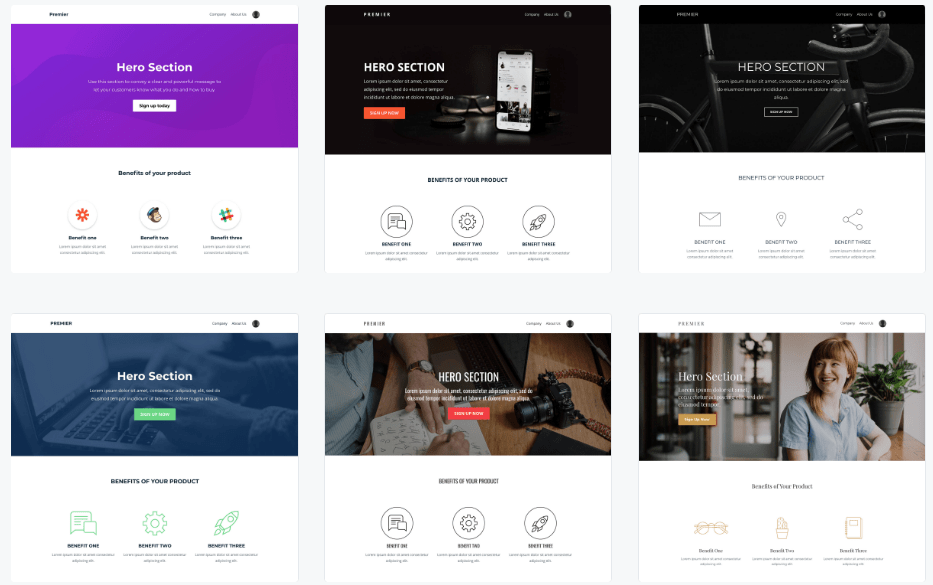 The thing I like the most about Kajabi's website builder is that it allows you to easily customize every single type of page that you might have.
From your homepage, static page, thank you page, 404 page, blog page, etc.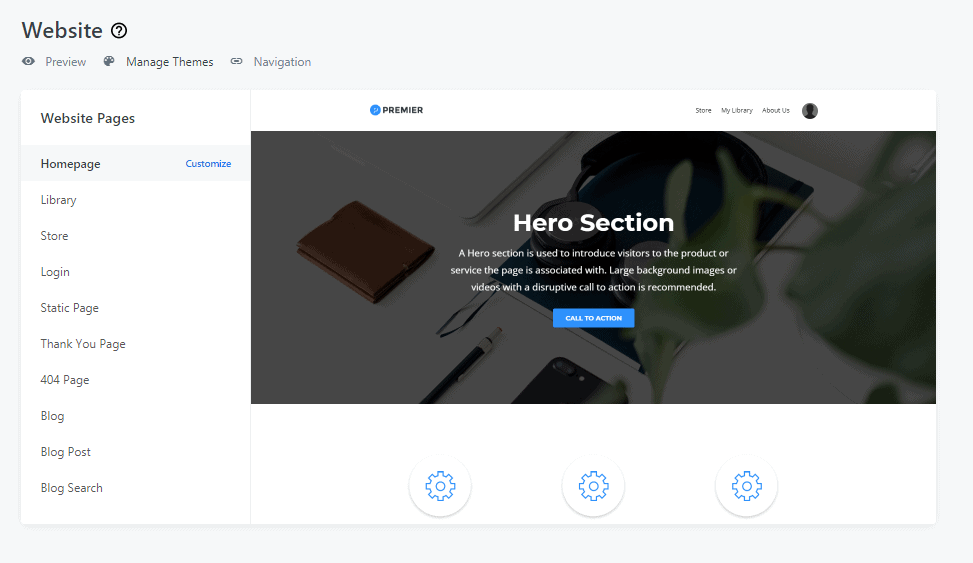 Kajabi's drag-and-drop editor allows you to easily customize any page on your website and make it look the way you want to.
You can easily edit and add text and images, add buttons, videos, opt-in forms, countdown timers, and more.
What I really like is the option to add pricing options on the page of your website.
This makes it faster and easier to showcase the difference between your plans as well as to increase your AOV. And I consider it to be one of the best marketing features of Kajabi.
Besides this, you can also easily embed a customer testimonial on your sales page making it easier to gather social proof and to sell your online course.
Worth mentioning is that Kajabi lets you create a store page on your website where you can showcase and sell all of your available products – ebooks, courses, etc.
As well as a library page where customers can access all of the products they have bought from you on your website.
In general, the Kajabi website builder allows you to create a fully functional website in just minutes. 
Sometime that might take you days or even weeks with other online course platforms. Or even months if you hire a web developer to build a custom website.
That's why by using Kajabi, you completely eliminate the need to use tools like WordPress, Wix or Squarespace and you can build your website in minutes.
Pages Review – with Kajabi you can also easily setup beautiful landing pages that you can use for lead generation, sales, or any other marketing purpose.
There are dozens of pre-built templates that you can use that make it easier and faster to create pages and setup the foundations for your sales funnels.
No matter if you need opt-in pages, sales pages, long-form sales letters, lead gen, and so on.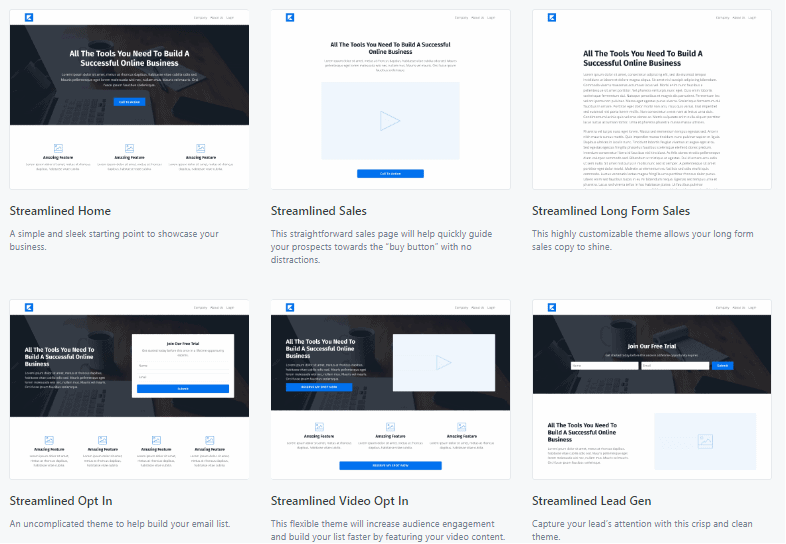 Kajabi's landing page builder allows you to easily add any type of content that you want on the page with drag and drop.
Everything from text, images, video, forms, call-to-action buttons, and so on.
You can add a countdown timer to your page that's connected to the product that you sell with Kajabi. And once it hits zero the offer expires automatically.
Besides this, you can also add any custom code you want on the page that could be extremely useful in certain situations. 
Analytics Review – Kajabi provides you with powerful analytics tools so you can better understand how your online sales are doing.
And later on, you can use this data from Kajabi to make decisions when it comes to how to improve your marketing efforts and sell more digital products.
On the main analytics page in Kajabi, you're going to see an overview of your sales performance.
You will see your total number of purchases, your net revenue in the last 30 days, and your net revenue for all time.
In your net revenue report, you will be able to see the amount of money you generate each day minus all refunds and discounts that you made.
You also have the opportunity to compare different Kajabi offers and to see how each one is performing day-by-day.
In the Kajabi reports, you can also track your refunds daily and see which offers have the most refunds by customers.
In your subscription metrics report, you will see the fluctuations of your monthly subscription revenue day-by-day. So you will know how good of a job you're doing when it comes to keeping your customers.
In this Kajabi report, you will also be able to track average revenue per user so you understand how much each customer is worth to your business.
And you will be able to see what is your churn rate so you understand better how you're losing customers over time.
Besides this, you also have a forecast that allows you to predict your monthly recurring revenue, average revenue per user, new subscriptions, and churn rate in the next 180 days.
So you will be able to predict how many customers you will be able to get and keep over time.
In your opt-ins reports, Kajabi will show you which opt-ins perform best and you will get insights that will show you what you need to do to improve them.
In your pageviews report, you will see your most visited landing pages day-by-day and you will be able to track page views and unique page views.
In the Offer sold report, you will see what offers are sold each day and you will be able to compare their performance in Kajabi.
And finally, in the affiliate report, you will be able to track your affiliate marketing efforts and understand how well each affiliate is doing.
In these Kajabi reports, affiliates will be ranked by their revenue generated and you will be able to see stats for each one like:
Revenue generated
Commissions
Conversions made
Total number of clicks
Conversion rate
Last sale made
Override percent

Pipelines Review – In Kajabi, Pipelines is an advanced sales funnel creator that helps you automate your marketing and sales process.
Since this is one of the unique features of the course platform, it was worth mentioning in this Kajabi review.
With Pipelines, you can connect several landing pages and link them together. So you can connect the process from opt-in, sending an email sequence, to lead nurturing and conversion.
When creating your pipeline within Kajabi, you can choose among 6 pre-build pipeline templates – freebie, Sales page OVO, Product Launch OVO, Zoom Webinar OVO, Free Book OVO, Coaching Campaign OVO.
Each pipeline template comes with a video explaining exactly how to use it to get results for your business.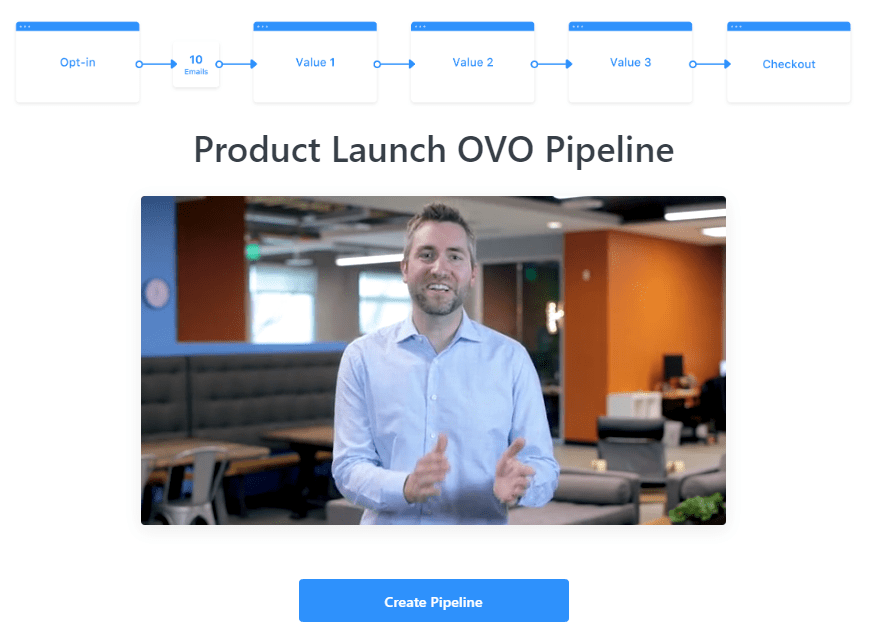 On this page on the top, you can also see what's included in the pipeline template.
In this case with the Product Launch OVO pipeline, you have: 
an opt-in page
Value 1, Value 2, Value 3 – these are landing pages that share your 3 main videos from the product launch for your online course
10 emails – this is the email sequence that you send to your email list after they opt-in
Checkout – this is your sales page where people can buy your online course
As you can see this Kajabi template makes it pretty easy to launch a new sales funnel without the need to spend hours building things from scratch.
The idea really is to make it as easy as possible for course creators to market and sell their products.
Of course, if you want you can also build a pipeline starting from a blank page in case you want something more custom for yourself.
Once you create a pipeline within Kajabi, you will be able to easily edit all elements and add new pages and marketing automations.
By clicking on a page, you will be able to edit it and change it within the pipeline itself. So you don't need to go back and forth being pipelines and pages.
So in other words, Kajabi Pipelines allows you to build your own sales funnel campaigns and it eliminates the need to use marketing tools like ClickFunnels, Kartra, and InfusionSoft.
Email campaigns Review – When it comes to email marketing, Kajabi allows you to send two types of email campaigns – email broadcast and email sequence.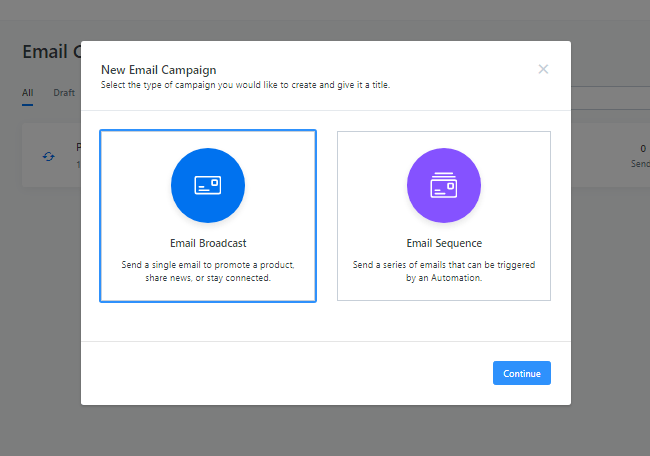 #1 Email broadcast – with the email broadcast, Kajabi allows you to send a single email to your list with the idea to promote an online course, share content, or just to engage them around your brand.
Kajabi allows you to choose among dozens of pre-built email templates each designed with a different email marketing goal in mind.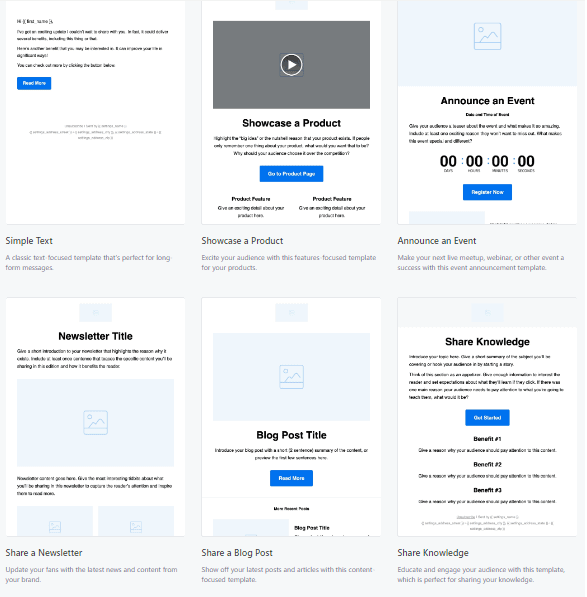 Some are created to announce an event, others to share your blog post, or to showcase a product (an ebook, an online course, etc.).
So you can pick the one that's most suitable for your current email marketing needs.
Once you pick a template, you can decide to send your email broadcast to your entire list or to a segment of your list.
And then you can edit the content of the email and even add it to an automation.
One of the best marketing features is the option to embed a video straight in the email itself. Which makes it way more engaging and attention-grabbing.
This is very important if you're looking forward to getting serious results from your email marketing efforts.
#2 Email sequence – so with Kajabi you can also create a sequence of emails that could be triggered by Kajabi automation.
When you create the sequence you choose on what day each email to be sent.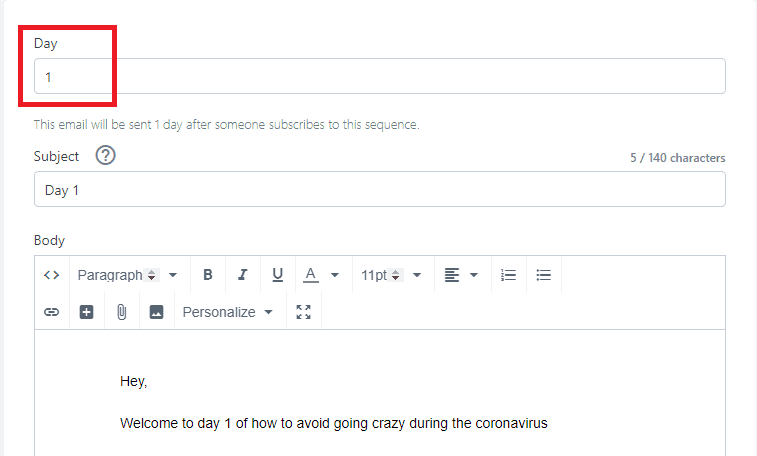 And after you create the email you can add an action to that email.
An action is triggered when one of these 3 things happen: 
email sequence is being sent
email is being opened
email is being clicked
And when this happens you can make one of the following things happen:
Grant or revoke an offer (for your online course, membership, etc.)
Subscribe or unsubscribe to an email sequence
Register or deregister an event
Add or remove a tag
Send an email
Send a coupon code
You can also add conditions to these actions that your subscribers need to meet.
These email marketing features are extremely valuable when you want to filter your list and contact a specific segment of your contacts.
The good thing about Kajabi is that it completely eliminates the need to use other email marketing tools like AWeber, GetResponse, etc.
Because it has all the email marketing features you would need to sell your online course or program.
Automations Review – with Kajabi automations you can automatically trigger actions on the app when certain events are being triggered. Which makes it so much easier to sell your online course or program.
This is done by using when/then/if logic when users complete a specific task defined by you within Kajabi.
So a new Kajabi Automation could be triggered when one of the following things happen: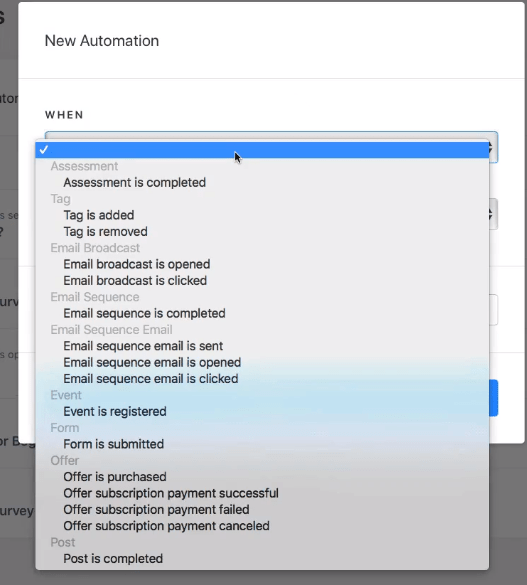 Assessment is completed
Tag is added or removed
Email broadcast is opened or clicked
Email sequence is completed
Email sequence is being sent, opened or clicked
Event is registered
Form is submitted
Offer is purchased, 
Offer subscription payment is successful, failed or canceled
Post is completed
And then you choose one of the following things to happen: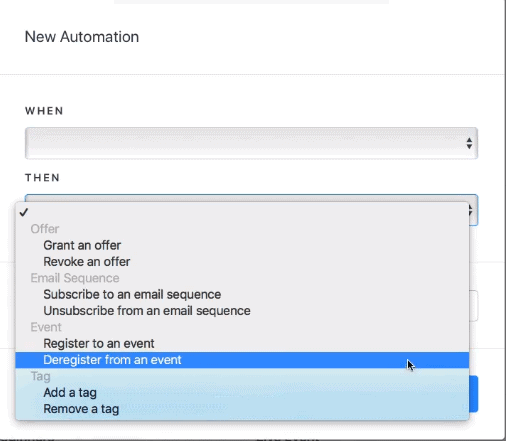 Grant or revoke an offer
Subscribe or unsubscribe from an event
Add or remove a tag
You can also add conditions on when this will happen such as:
When it is subscribed, member or hidden within a Contact filter
When people have been active or inactive in last X amount of time
When people have or haven't submitted a form
When people own or don't own specific products you have
When people have or don't have specific offers you sell
When you have sent or not send email broadcast to people
When people have opened or haven't opened email broadcast
When people have clicked or didn't click email broadcast
When people have subscribed or haven't subscribed to email sequence
When people have registered or haven't registered for an event
When people have all, any or none of these tags
When name, email, phone number or address contains
That way your Kajabi automations will only be triggered for people who meet your conditions.
For example:
You can setup a Kajabi automation to be triggered when people submit a form and then you want to add them a tag when they meet the condition to be part of a specific email list.
You can also assign a tag when people buy your online course or program.
Events Review – In Kajabi you can use events to setup countdowns for your landing pages and your email broadcasts. 
That way with Kajabi, you can automate your emails to be send on a specific date instead of sending them based on when people opted-in with an email sequence.
You can also use events to register people to digital or in-person events.
That way you can use them to create a specific date for Live Webinars, product launches, in-person events, flash sales, etc. within Kajabi.
There are 4 ways people can register for an event in Kajabi:
By adding a tag
By completing a form
By completing assessment
By purchasing an offer
Forms Review – Forms in Kajabi are used as a lead generation tool so people can opt-in to receive your offer.
This would be one of the most important marketing features you would use when promoting your online course.
And you can add these forms both on Kajabi pages as well as external pages.
You can embed a Kajabi form on any website simply by copying a piece of code and pasting it in the source code of the page where you want the Kajabi Form to appear.
Any time people submit a form within Kajabi, this could also trigger an email sequence, a Kajabi automation, or assign them a tag.
All forms are fully customizable and you can edit them straight from Kajabi page builder where you have them installed.
Kajabi allows you to customize everything from heading, subheading, button text, and color, thank you page, and form fields.
People Review – the People tab in Kajabi represents all of your contacts who have interacted with your business in any meaningful way.
These people have either:
Filled out a form (they have left contact information such as email address, phone number, etc.)
Purchased an offer (a course, program or else)
Have been imported into your site manually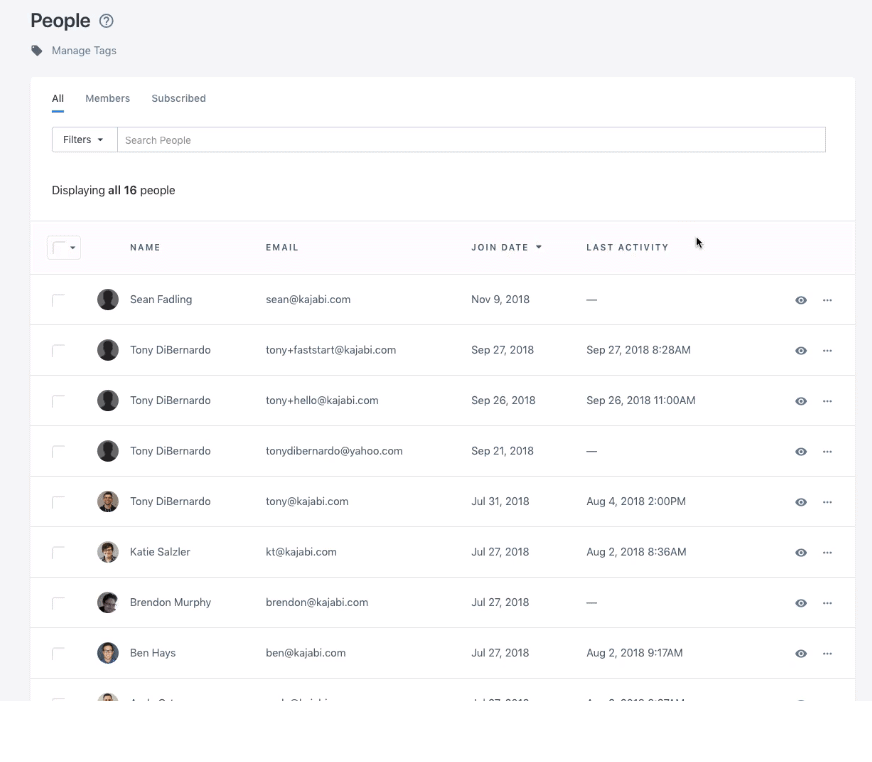 For each person, you will see contact information such as name, email address, join date, and when they were last active.
You can also filter your list and create custom segments as a way to better manage your contacts.
In Kajabi you can create segmented groups based on:
Age
Interests
Needs
Lifestyle
Purchasing habits
And once you create these segments within Kajabi, you can setup different types of marketing campaigns to be sent to each one.
Assessments Review – with assessments you can create standardized tests and surveys in Kajabi to better understand your audience.
Then the information that you get within Kajabi with them you can use to improve your marketing efforts and to understand how to better sell your courses.
Kajabi allows you to add as many questions as you'd like and you can have multiple choice answers.
After you create your assessment you can add it to a product (online course, membership site, etc.) or to a page within Kajabi.
The good thing is that you can track the results of your assessments straight in the Kajabi dashboard.
And you can even download the results in a CSV format.
Besides this, notifications could be sent to you and the other administrators anytime someone completes an assessment within Kajabi.
You can also send your Kajabi assessments results to 3rd party apps like Google Docs with the help of Zapier.
Affiliates  Review – with this Kajabi feature you can create an affiliate program and get your members to sell your online course for you.
This is one of the most powerful marketing features of Kajabi. As most people know that affiliate marketing is one of the best ways to promote your online courses and programs.
That way the Kajabi affiliate program allows you to focus more on course creation and let others do the marketing for you.
And anytime a course sale has been made your affiliates will receive a commission that's automatically calculated by Kajabi.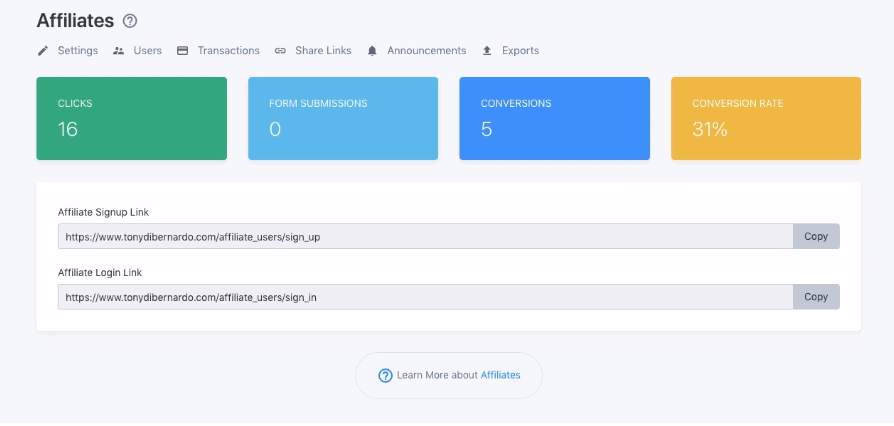 On the main page, you will see stats such as clicks, form submissions, number of conversions, and conversion rate.
And these are for all pages that have access to an affiliate link provided by your affiliate program.
From this dashboard in Kajabi, you can also get the link for people to sign up as your affiliates and promote your course.
And the link affiliates can use to login into their private dashboard.
In the transaction section, you will be able to see all the transactions that generated by a user. So you will know exactly how many sales they have generated for your online course.
Kajabi Integrations Review
As a course platform, Kajabi gives you almost everything you need to sell courses online.
Despite all of this, people might want additional features or functionality that's not currently included. Or they might simply have other tools they're currently using for specific tasks.
That's why in this Kajabi review, I wanted to list all of the available integrations with this course platform.
Right now Kajabi integrates directly with a number of third party applications to make it easy for you to connect with other marketing tools you might be using.
It has direct integration with email marketing tools, analytics tools, and other landing page platforms.
So here's the full list of currently available integrations with Kajabi:
Email integrations – Aweber, MailChimp, Drip, ConvertKit, and ActiveCampaign
Analytics – Segment, Google Analytics, and Facebook pixel
Landing page – ClickFunnels
Besides all of this, Kajabi also integrates with Zapier which allows you to connect it with 500+ other apps.
Kajabi Support Review
Kajabi really stands out with their customer support. Especially, compared to their biggest competitors.
That's why in this Kajabi review it was important to discuss it so you understand what type of support you can expect from this course platform.
They have amazing resources available on their website, customer support team available 24/7, and daily live webinars that teach you how to use the platform.
Now let's take a deeper look at how Kajabi is going to support you when you sign up for their sales funnel software:  
Helpdesk – Kajabi has a powerful help center where users can find resources, information, and answers to most of their questions.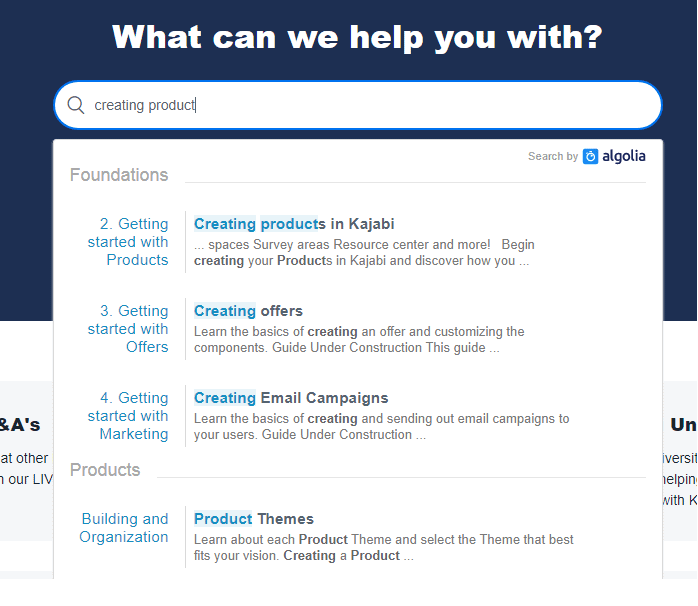 You can simply type in the search bar and find articles that explain how to use specific features or fix specific problems that you might have with Kajabi.
Kajabi has also organized all materials into different categories each one explaining different products or features of the platform.
That way you can easily find the information and the materials that can teach you how to use the platform to accomplish your goals.
Live training – Kajabi hosts daily live webinars explaining key features and how to use them to grow your online business and sell your course.
They have a variety of different training that focus on the all-in-one solution, creating and selling products, running live webinar campaigns, marketing pipelines, etc. 
Kajabi also hosts daily Q&A sessions where you can get all your questions answered about the platform so you can understand better how to use it.
Live chat support – Kajabi offers 24/7 live chat support that will help you out with any issue you might have.
Account representatives are fast to respond and they understand the functionality of the platform really well.
So whatever question you might have about Kajabi, they will be to answer it.
They are also fast to respond to any technical issues that you might have. 
So that's why I can definitely say that Kajabi has definitely done a better job when it comes to their customer support than most all-in-one marketing platforms out there. 
Email support – Kajabi also offers email support that you can contact at any time. And they will promptly respond and do their best to fix your issue or answer your questions.
Even though, I would probably use the live chat option as it is faster.
Phone support – unfortunately, Kajabi doesn't offer phone support. So it's not possible to call the support.
However, if you have an issue and you leave your number the support will call you back and have a conversation with you on the phone.
Kajabi Pricing Review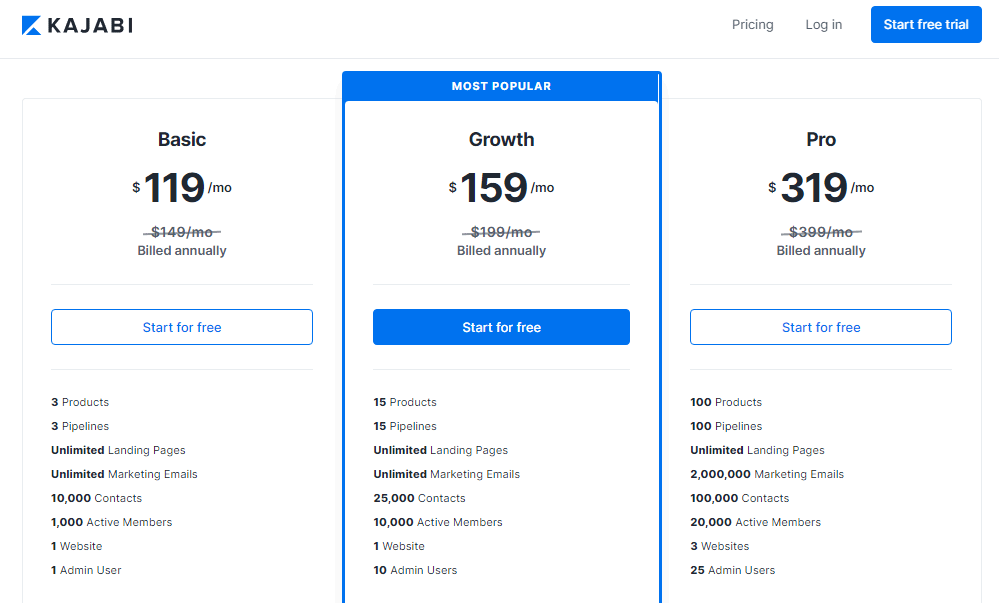 I know that anyone who's going to read this Kajabi review would like to know how much it would cost to use it.
That's why I wanted to take the time to discuss the pricing.
Right now there are 3 main Kajabi pricing plans that you can choose from:
Basic – this plan gives you all the basic features you need to get started with Kajabi.
With it, you can create up to 3 products and have 3 pipelines which is more than enough in the beginning.
You can also create unlimited landing pages and send unlimited marketing emails which is something that's quite rare to be offered by most marketing platforms with their lowest plan.
Despite this, you have limitations set on the number of contacts – 10,000 and the number of active members – 1,000.
And if you someone manages to reach this limit, this means that you're probably already making more than enough money to be able to upgrade to the next plan. 
The only serious limitation with this plan is that you can only connect Kajabi with 1 website and you can only have 1 admin user.
The basic plan costs $119 per month if you pay annually and $149 per month if you pay monthly.
Which is pricier than most all-in-one marketing platforms out there.
Growth – this plan gives you everything included in the basic plan and more. Making it suitable for business owners who are already up and running and wanting to grow.
With Growth, Kajabi allows you to create up to 15 products and 15 pipelines. Which is something that you would probably need only if you have a pretty solid business already.
You're also limited to 25,000 contacts and 10,000 active members.
You can also add up to 10 admin users so this plan is perfect if you have a small team that helps you manage your business with Kajabi.
The main limitation here is that you can still connect Kajabi with only 1 website.
So if you need more than that, you would need to upgrade to the pro plan.
The growth plan costs $159 per month if you pay annually or $199 per month if you pay monthly. 
Pro – this plan has everything included in Growth and much more.
With Pro, Kajabi allows you to create up to 100 products and 100 pipelines. Which is a pretty high limit considering I don't know a single person who needs that many.
You can also have 100,000 contacts, 20,000 active members and send 2,000,000 emails.
It's also suitable for bigger teams as it allows you to have up to 25 admin users.
And it allows you to connect Kajabi with up to 3 websites. Which I still consider being a bit low considering this is the most expensive plan.
The Pro plan costs $319 per month when paid annually and $399 per month when paid monthly.
All plans come with a 14-day free trial that you can use to test Kajabi and see if it's something that you would like using in the long-term.
Besides this, Kajabi also offers a 30-day money-back guarantee so even after the free trial is over you can get a refund if you're not happy with the platform.
In conclusion
As a conclusion to this Kajabi review, I want to say that Kajabi is simply one of the best online course platforms out there.
Within just a few minutes you can setup everything and start selling your online courses.
Which is something that's very hard to do with other online course platforms.
It is extremely easy to create your digital products with Kajabi even if you're not tech-savvy. Which is one of the biggest advantages of this course platform.
Anyone can learn to use Kajabi with ease and everything is explained step-by-step in their extremely detailed knowledge base.
Besides this, you can also use Kajabi to create your landing pages and sales funnel, setup your marketing automation and send email sequences to your list.
This makes Kajabi a full all-in-one online course platform that really gives you everything you need to start selling online courses.
And as a conclusion to this Kajabi review, I can say that this is one of the best online course platforms out there.
 So it is definitely worth trying. 
Are you currently using Kajabi for course creation? What other course platforms are you considering using? Let us know in the comments below.