It's 2020, and the internet is teeming with life!
People are finding new ways to connect, and it doesn't show signs of slowing down.
Even video game sports have become a full-time career for some. Online streaming is a video game platform for gamers to show off their skills and have viewers watch them live.
What are some tips for first-time streamers?
If you have been considering streaming, then there are some tips that you should keep in mind. These tips include having a great internet connection, having the right equipment, and interaction with other gamers. You will also need to be consistent in your streaming efforts in order to gain a following and offer frequent commentary to keep it interesting.
While many people are interested in getting into online streaming, most don't know where to start.
If you are trying to make your streaming dream a reality, keep reading to find out everything you need to know.
So, How to Start?
Streaming online for the first time can seem daunting to a beginner. Luckily, we have put together 5 of the best tips for getting started:
Have a great internet connection
Have the right equipment
Interaction with other gamers
Be consistent
Provide commentary
There is a science to everything, even gaming. With streaming, there is a mixture of different elements that all come together to make something great.
#1 Have a Great Internet Connection
The first and probably most important element is that you have a great internet connection.
Viewers want to be able to watch streamers without interruption. Having a slow connection is the fastest way to get users to bounce.
#2 Have the Right Equipment
Streaming can be an expensive hobby (or sport depending on how you look at it). Gaming consoles cost roughly $300.00 without including the price of the games.
You'll need a microphone and a webcam to connect with viewers as well. The quality of your content is important when you have a following of fans watching your every gaming move!
In addition, to gain a following, you will want to have some commentary to go with your video feed.
Do some research and find out what the good qualitity equipment is available. There are some gems that surprisingly won't break the bank.
#3 Interaction with Other Gamers
The gaming community is just that: a community. People are helping others, poking fun, egging on, trolling, and just enjoying each other's company.
You'll need to form friendships with potential followers, and eventually, they will subscribe to your feed (which is the goal). This is a great way to share followers and gain new ones.
#4 Be Consistent
Consistency is key! Even if you have zero following and zero viewers, you should still strive for greatness.
Google, Facebook, Twitch, YouTube, etc.
All these platforms you are on show a record of successful streamers having consistency. It's the people who post Every Friday (example) for the last 5 years etc.
You need to be consistent to be successful.
I'm not saying to never take a day off, you can always record ahead of time and schedule them in advance!
#5 Provide Commentary
Remember that success takes time and hard work! Get online and follow other streamers; connect with them.
Give your feedback on other streamers, a variety of games, etc. Get your voice out there. People who follow you will want to know what you think about certain games or matches.
Common Mistakes New Streamers Make
Remember that live streaming is LIVE.
We must anticipate things that can go wrong and try to have plans in place to correct them:
Poor streaming quality
Poor Planning
Inconsistency
Poor Promotions
Poor Streaming Quality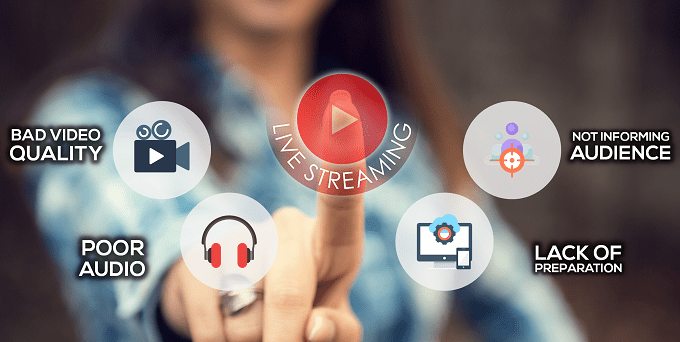 The major things that will effect your streaming quality are:
Resolution
Frame rate
CPU Preset
Amount of Motion
Colors Changing in Your Game
Bitrate
Internet Speed
You're streaming in 1080p (when 720p is probably good enough)
Poor Planning
Plan, plan, plan.
Think about your favorite sports team or live streamer.
It may look easy when they are on screen looking perfect, but behind the scenes, lots of hard work and planning go into getting ready for entertainment.
You'll need to do trial runs before going live. If you try to go live without proper equipment testing, you run the risk of failing in front of an audience that may not come back.
Streaming live is both a hobby and a sport. If you want to succeed, you'll have to do some prep beforehand.
Internet, gadgets, wiring, and setups are all moving parts in a giant system. If one of them is bad, the entire system is bad.
Inconsistency
Again, consistency is key! Your live stream is a channel that viewers watch.
If you stream today and then wait five days to stream again, viewers will not know when you are streaming and won't be able to tune in regularly.
You'll need to set yourself up for success by being consistent with the days and times you stream. This way others can follow along easily.
Poor Promotions
Think of streaming as just that – entertainment. You want an audience to see you and like you. You'll need to give them your best. Always practice and plan your streams ahead of time.
People need to know you have an online presence. Use your social media accounts and any other tools you have to let others know of your streaming site.
Promoting yourself will bring old and new eyes to your stream, maybe resulting in subscribers and return followers. The more people watching you, the more chance of success.
How To Become a Famous Streamer
Becoming a famous streamer is not an overnight achievement.
In fact, it can take many months or even years to gather a following large enough to consider your stream famous.
While you are rising to your desired stardom, there are a few things to be aware of:
Equipment and streaming software
Category Streamer
Internet Trolls
Networking
Internet Persona
Equipment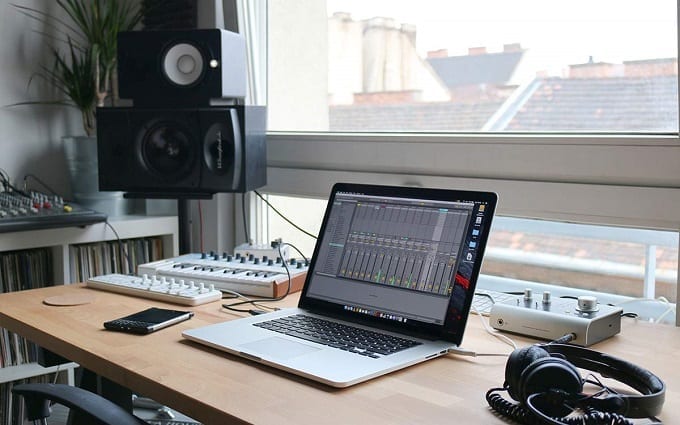 It goes without saying that you'll need to have quality equipment to access the online streaming world.
Having proper equipment ensures that your viewers can see and hear you without any troubles.
You are entertainment. You need to make sure your fans and following see what they've logged on and tuned in to see.
Category Streamer
There are two kinds of streaming categories: an entertainer and a skilled gamer.
Which are you?
If you are great at commentary, have a quick wit, and are overall just an entertaining person, then you may see yourself followed more often for those reasons.
You need to be somewhat skilled at the games you're playing, but, overall, people will log on to hear you or watch your antics rather than your gaming skills.
A skilled gamer could be the opposite. A skilled gamer is best for watching and learning. If you are more of a skilled gamer, then people are most probably tuning in to see your gaming skills!
You might not need to have such a witty commentary or entertainment style because your skills show in other areas.  Viewers can appreciate both types of streamers.
Internet Trolls
Working in an online world, such as streaming, is tough because you do not face to face with the people watching you.
This leaves room for judgment and invites internet trolls – people on the internet who find humor in making other people miserable.
You must learn to not take things personally, and you must have thick skin.
You won't just gain a loyal following as you rise in popularity; you will also gain "haters" that will cause drama with you and your streams.
You'll need to develop a way to deal with both of those types of people online. There are "haters," and there are people who will want to be your friend. Embrace friends!
Networking
Networking is also important to gain a following and gaining a large following will help your rise in popularity.
By making more friends than enemies, more people will be inclined to subscribe and donate to your stream.
This will bring in monetary compensation to you and a greater following. More fans can mean more fame!
Internet Persona
At the end of the day, you will need to know who you are and represent yourself in a manner that attracts others.
Whether it's with your excellent gaming skills or with your entertaining commentary, you should be able to give your viewers your very best every day.
Find out who you are online and how you can create a name for yourself. Network, build relationships and, most importantly, just be you.
How To Make Money Streaming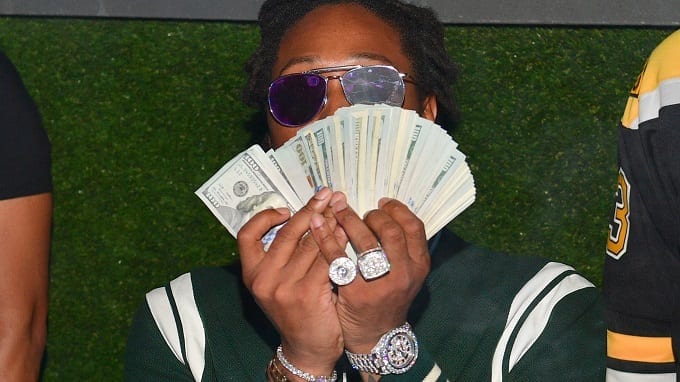 So, you've got the right gear, you've got the skills and the commentary down, and you've got fans and viewers.
What's next? Money!
How can you eventually quit your 9-5 job and tune into streaming indefinitely?
Subscriptions
Advertisements
Affiliate Sponsors
Fan Donations
Merchandise
Subscriptions
Twitch allows gamers to host their gameplay and allows Twitch viewers to watch live gaming streams for free.
Twitch users can subscribe to different gamers for a subscription fee of $4.99 that allows the user to watch old streams and removes ads on the screen.
This fee is split between Twitch and the stream and is the best way for a streamer to earn money.
Advertisements
Having a good following online has other perks, like gaining advertisements and sponsors. Brands will want to pay you to reach out to your viewers and advertise their products or services.
Affiliate Sponsors
Some businesses and brands will sponsor you and give you things to sample or wear during your streams, so you'll have a testimonial to share with your viewers.
If your viewers purchase products through you, you'll also get a payout for being the lead generator for their brand.
Fan Donations
The streaming and gaming worlds are very much like the sports world. Fans love their gaming stars! They even offer to donate and fund new equipment.
Some fans will donate $25 just for you to give them a shout out on your stream.
Therefore, it's always best to be nice online and create friendships. Some fans want to give you money for just being you!
Merchandise
You can also create your own merchandise and sell it on your channel as well. This will bring in more income if viewers like what they see and want to buy. Give it a try!
Online gaming and streaming exist in a world filled with fun and excitement. If you feel like starting a streaming site, do it! Give it try and see where the gaming world takes you!