In this PayKickStart review, you'll learn how you can effortlessly start or scale your online business, leveraging modern marketing, flexibility, and outstanding customer support.
I'm going to do a full breakdown of PaykickStart's features and give you my transparent opinion if you can count on their platform.
First, we'll take a look at the platform's features, then we'll investigate how well it integrates with other software.
We'll see how transparent PayKickStart is at serving their customers by researching their support and lastly, we'll look at the pricing models.
Without further ado, let's jump straight into the PayKickStart review.
What PayKickStart Has To Offer – Features
When it comes to which Shopping Cart Management platform you want to choose, it's of severe importance to really dive deep into their features.
And this is what I will do for you in this section… We're going to cover everything you need to know about PayKickStart so that you can choose the best shopping cart platform for your needs.
Before I give you my opinion for each and every one of PayKickStart's features, I want to state the fact that you don't really need to go through a long learning curve until you get the feel of their platform.
PayKickStart's Ease Of Use – Now, what do I mean by that?
As a marketer, that's the most frustrating part of everything I do… Any time I try out a new funnel builder I have to go through countless hours before I start selling my products and services.
I'm sure that you're familiar with this feeling and I want to assure you that if you use PayKickStart, you'll literally fall in love with it.
The moment, you register for PayKickStart shopping cart software, you're instantly welcomed by a 60-second "How To Get Starter" video.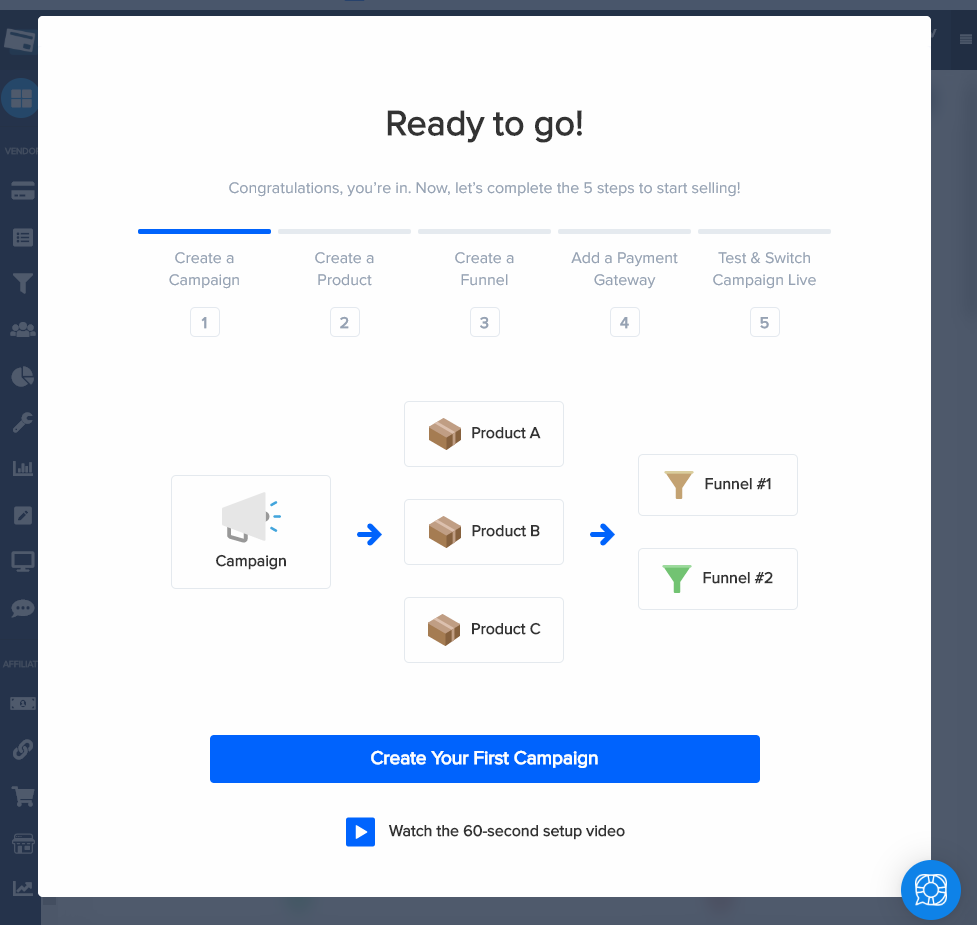 Shopping cart software is famous for its complex nuances and fairly steep learning curve.
But PayKickStart is one of the best funnel builder solutions I've seen with a complicated feature-set introduced in effortless, easy-to-understand steps.
With that being said, let's jump right into the PayKickStart features and review them one by one.
How does PayKickStart Payment Integrations – First of all, I want to begin by saying that it really doesn't matter if you sell your physical or digital products through a subscription model or one-time billing. They are both available!
PayKickStart also supports the most widely-used payment integrations, as you can see below

PayPal
Stripe
Braintree
Authorize.net
EasyPayDirect
What's better is that PayKickStart is constantly improving as you can see below:
Soon you'll be able to use Apple Pay and Google Pay as payment gateways.

That being said, you can use PayKickStart to cover every possible payment option, not only the subscription model or one-time billing but everything else, including:
Free and Paid Trials so that your customers can easily test the benefits of the digital products you sell online
Sell Digital by an effortless Upgrade & Downgrade of your membership levels
Crucially, whichever payment gateways you choose, you keep 100% of your profits because PayKickStart has a 0% transaction fee. What else would you like from a shopping cart platform?
And astonishing Checkout Experience, right? or in other words…
Does PayKickStart's Shopping Cart Convert Well? – we all know that not every shopping cart platform does its job to optimize for sales and conversions.
So the question here is, is PayKickStart going to do a good job here?
If you sell your products online with PayKickStart, you'll be able to benefit by their beautifully designed checkout templates.
They offer both one-step checkout templates to sell your products and even some multi-step templates, which to be honest are not the best option.
That said, I've definitely seen more creative checkout templates out there. 
PayKickStart's templates all seem to have the same mandatory elements. 
So if you're looking for some weird and wonderful variations you most likely won't find that through PayKickStart.
Yet, to be fair, PayKickStart offers you the cleanest checkout templates best optimized for conversion. 
So if you want your digital or physical products to sell like crazy your business doesn't need the fanciest website.
As for the checkout templates, you can also configure things like:
Testimonials
Powered-by badge
Custom scripts
Legal checkbox
Exit-intent popup
Duplicate purchase warning
If I were, to be honest, which is my purpose for this review…
PayKickStart's shopping cart funnel builder is not the easiest to navigate and learn, but at least it allows for a great amount of customization and flexibility if you have an eye for the details.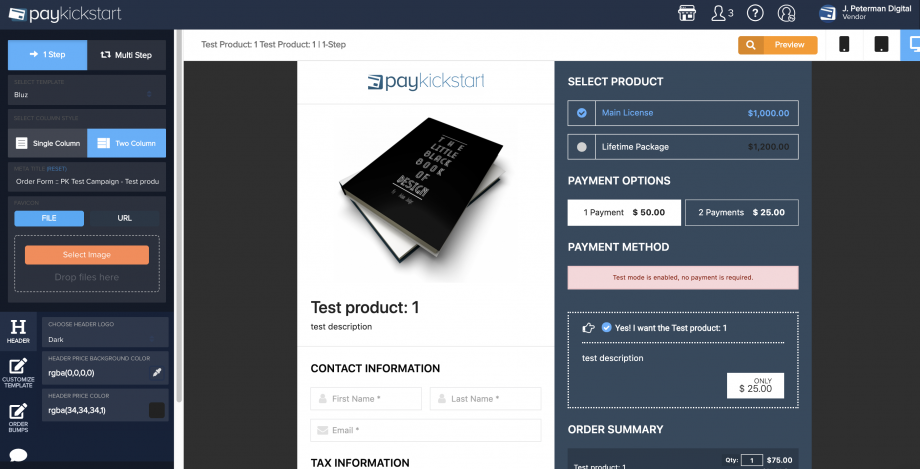 You can even add your own custom fields if needed.
So you're covered all the way to when the actual sale is made.
Now that we've covered PayKickStart everything you need to know for their shopping carts, let's get to the nitty-gritty customizable checkout…
The Revenue Boosters – As one of their features, PayKickStart offers out-of-the-box marketing materials to help you increase your sales exponentially.
So in this part of the PayKickStart review, you'll learn how Samcart helps you increase your average order value and revenue.
One-Click Upsells – this is one of the most important of all conversion boosters.
One-Click Upsells are part of PayKickStart's Funnel Builder.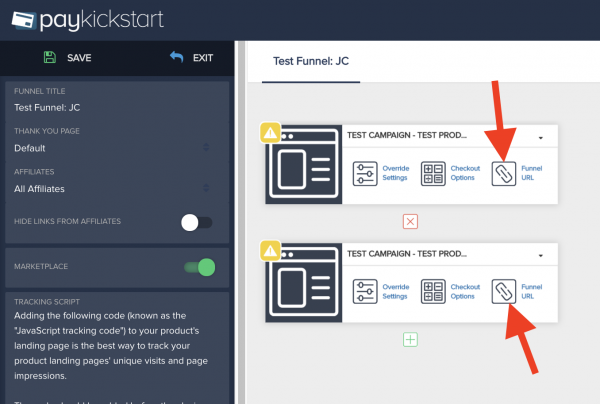 As stated on Samcart's website One-click Upsells can help you increase your sales by allowing your customers to purchase an upsell with just one click.
Imagine how much money you're leaving on the table by selling your products online if you don't have such features.
Yet, PayKickStart doesn't stop there…
Coupon codes – Next, if you're selling mostly physical products the Coupon Codes feature will get in handy.
With PayKickStart you can create percentage or fixed-discount coupon codes. You also can decide if you want these codes to be available only for one or limited number of purchases, etc.
Here's how this looks: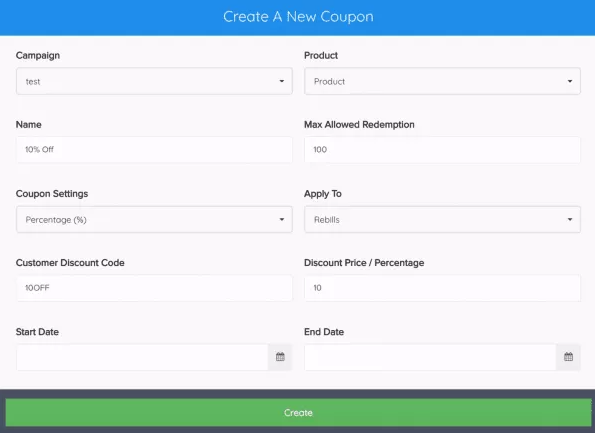 If you sell physical products online, this feature is a no-brainer to increase the conversion rate of your shopping carts.
But that's not where the fun begins…
Have you heard of the term order bumps? It's one of those bump offers that increase the value of the sale by adding a supplementary product to your customer's shopping cart on the same checkout page.
Now, if you're wondering how you can setup Order Bumps within PayKickStart, you can take a look at the pictures below: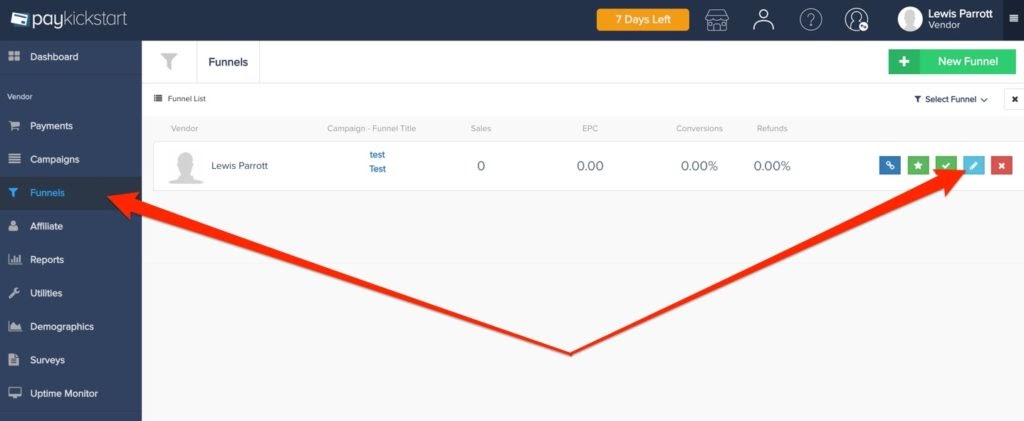 It may not be the most intuitive process, but when it comes to selling more of your products, it's totally worth the hassle.
Once when you're building your funnel, you should look at this popup button.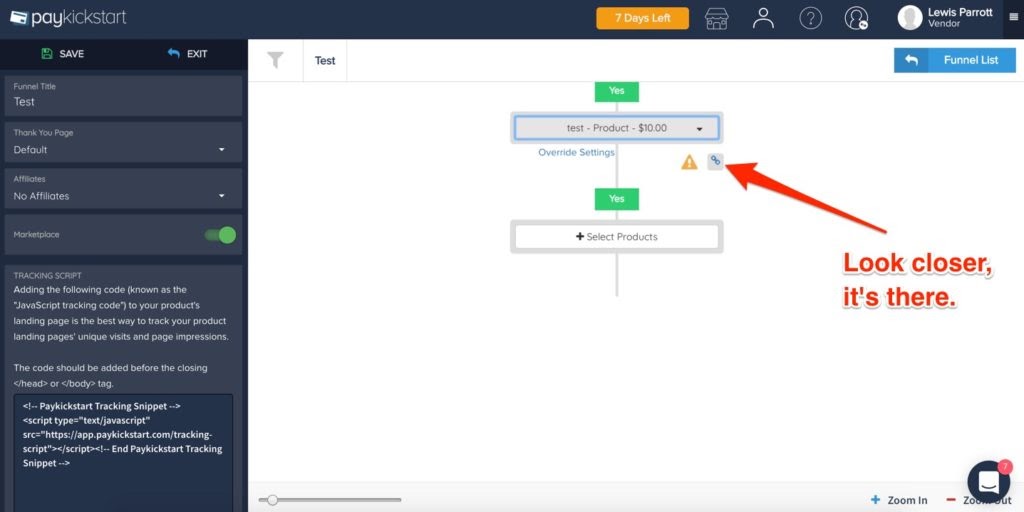 And from there to create your bump offer, just click the option to upgrade.
With the help of these amazing order bumps, you'll be able to 2x or even more the revenue you're getting from your shopping carts.
Now, to make the customizable checkout pages even more optimized for Sales and Conversion, PayKickStart offers you:
Exit Popup – with this you can convert the visitors who are able to leave your website to email subscribers and customers.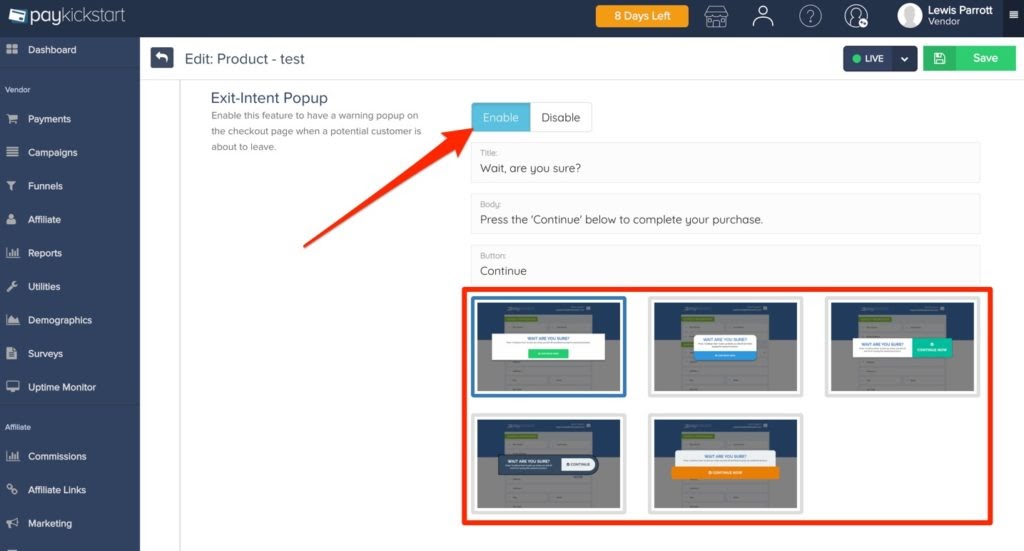 I believe that this is also the right place to touch on the split testing.
Unfortunately, as hard as I looked, I couldn't find anything even in the Knowledge Base.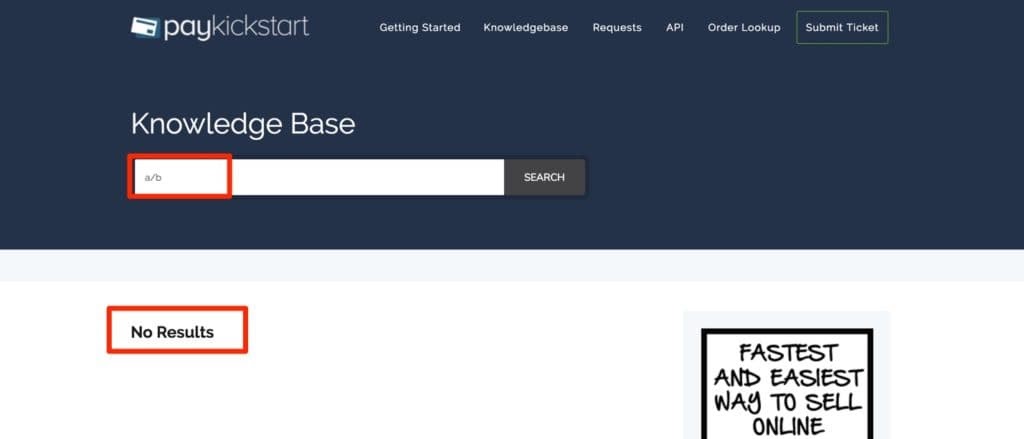 And the lack of A/B testing features is a huge miss for PayKickStart.
So you will simply need to duplicate and close everything and test it manually yourself.
Pre-Filled Checkout Page – Imagine if your customers left right before completing their purchase, sad isn't it?
Well, not really, since PayKickStart allows for your customers to return to the checkout page with the fields already pre-filled – which increases the chance for them completing the order.
And lastly, Tracking Pixels – You can install your Facebook ads pixel so you can run retargeting ads and convert more visitors into customers. Besides this, you can also add other tracking pixels like Google Analytics to better understand how your customers purchase from you.
We'll discuss that in more detail when we get to the Integrations section, but for now, that's about everything you could expect from PayKickStart to help you increase the customer value of your online business.
It's of great value that we looked at all the ways PayKickStart improves conversion, but then we could ask…
Can it help you retain customers who haven't purchased or are just about to cancel their subscription?
Revenue Retention – With the help of this feature you can analyze your subscriptions and understand how to improve your recurring revenue.
It's terrible that almost none of the shopping cart platforms nowadays integrate inside their platform the ability to retain revenue that might otherwise be lost.
Luckily, you can use PayKickStart to do just that!
Let's take a look at all marketing materials that are included inside of PayKickStart shopping cart software.
Let's say that you are selling a subscription billing product (ex. membership services) on their platform. PayKickStart allows you to set up:
Dunning Email Sequence – So when a recurring payment fails, you can send an email sequence automatically to your customers to remind them to update their payment method. This keeps their subscription active so that they can make more business with you. This is the best of all subscription saver sequences you could use.
Trial Ending Reminder – If you offer a Free Trial for your product with this feature you can send a "trial ending" email sequence to convert more people from "free trial" to paid customers.
Cart Abandonment Reminder – With the support of PayKickStart you don't need a 3rd party CRM platform to remind people who abandoned your cart to come back and finish their order.
And this is just the beginning… If we had to cover, this review article would be endless.
PayKickStart also allows you to send Credit Card Expiring Reminder, Customizable cancellation saver flows which is absolutely fantastic because you can gather the data you need to minimize your churn rate and maximize your profitability.
Having said that, now you might wonder… How can you track the efficiency of all these amazing features?
Reporting and Analytics – a must-have feature for any shopping cart is being able to track your sales and display everything in a digestible and easy to understand report.
PayKickStart has various reporting options, so let's investigate a few of them in this review.
Below you can see the standard sales report: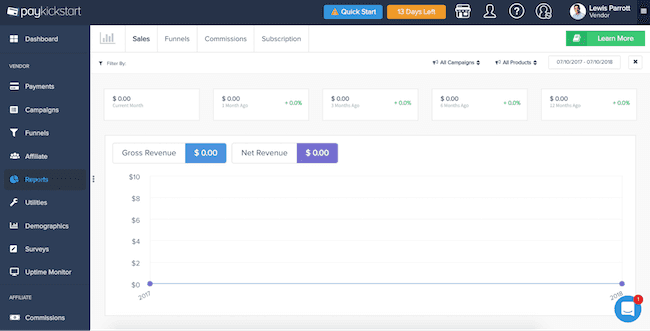 You can track both gross and net revenue over personally chosen time-frames, shown at the top.
What's great here is that the graph is interactive, which means that you can hover over to any area and get more detailed information for the specific point in time.
Next, you can see the Funnels report.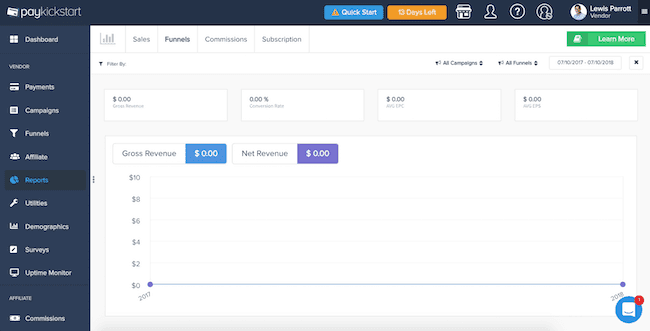 The "Learn More" green button at the top will lead you directly to PayKickStart's Knowledge Base Center so you can understand these charts in-depth.
In this section, you can track the generated revenue through your funnels, see how your order bumps and 1-click upsells are performing, and really get an idea of how you could further optimize your funnel.
You'll be right if you think that it looks exactly the same as the previous report…
Yet, the only difference here being that one of the filter options has changed from 'Products' to 'Funnels', so that you can narrow down which funnel is generating the most revenue.
Next one is the Commission's report within PayKickStart: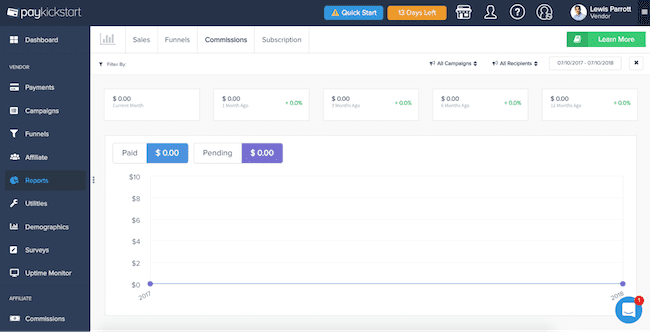 Again, very similar to what we discussed already.
However, this time, you're looking at commissions generated by your affiliate center which is what we'll discuss in the next section.
Here you can see how much money your army of affiliates is generating for your business, as well as their overall cut.
And lastly, you have the subscription report in which you can see how your recurring products (subscriptions) are performing.
Here are some of the extra data point you can investigate:
Monthly recurring revenue
Total subscriber count
Churn rate
It's great that PayKickStart's platform allows its users to separate their Analytics into different sections, but what if you want a Dashboard in which everything fits into one place.
So if you're just starting out, the Dashboard reporting option is much easier to navigate through.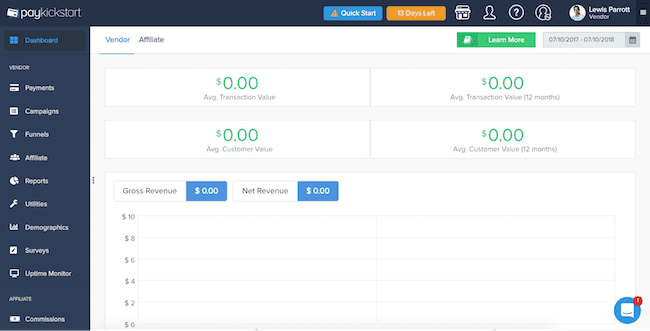 Now, what do you do if you want to scale hard and are looking for an Affiliate Management platform?
Well, PayKickStart got you covered…
PayKickStart's Affiliate Program – The platform is designed to support both regular vendors and affiliates alike.
With the help of PayKIckStart's heavily developed affiliate center, you can assign affiliate to market and sell your stuff.
Even if you haven't worked with any affiliates before, PayKickStart makes Affiliate Management so much easier with the following tools that the platform offers:
Instant & Delayed Commission Payouts – You can choose if you want to pay your promoters instantly or if you would like to setup a delayed payment
Promotional Materials – This is a place where your affiliates can find marketing materials for any of the products they promote for you. This could be anything from email swipes, banners, etc…
Affiliate Contests – If you want to gamify the process you can do so using the leaderboard PayKickStart's affiliate program offers. With its help, you can see who has brought the most sales. And top affiliates can earn rewards.
And there's even more…
You can automate bonus delivery for your most committed affiliates' leads which allows for effortless affiliate management.
You can give your affiliates bonuses such as products or free eBooks or products that they can offer to their customers
The affiliate center really covers everything that you would need if you're ready to go big with your business.
Now, everything is great, but lastly, I want to focus your attention on one of the most important aspects of PayKickStart.
PayKickStart Integrations
It's important to be able to integrate your PayKickStart with all the other software tools that you're using.
The first thing you would need is to integrate PayKickStart with email marketing software tools, and PayKickStart integrates healthily with most tools you might want to use.
The platform integrates with many 3rd-party email marketing platforms like:
Campaign Refinery
ActiveCampaign
Aweber
ConvertKit
Constant Contact
IContact
Drip
Klaviyo
Infusionsoft
Interspire
Maropost
MailChimp
MarketHero
SendReach
Ontraport
Sendlane
As you can see from the image below email marketing integrations become a child play with PayKickStart.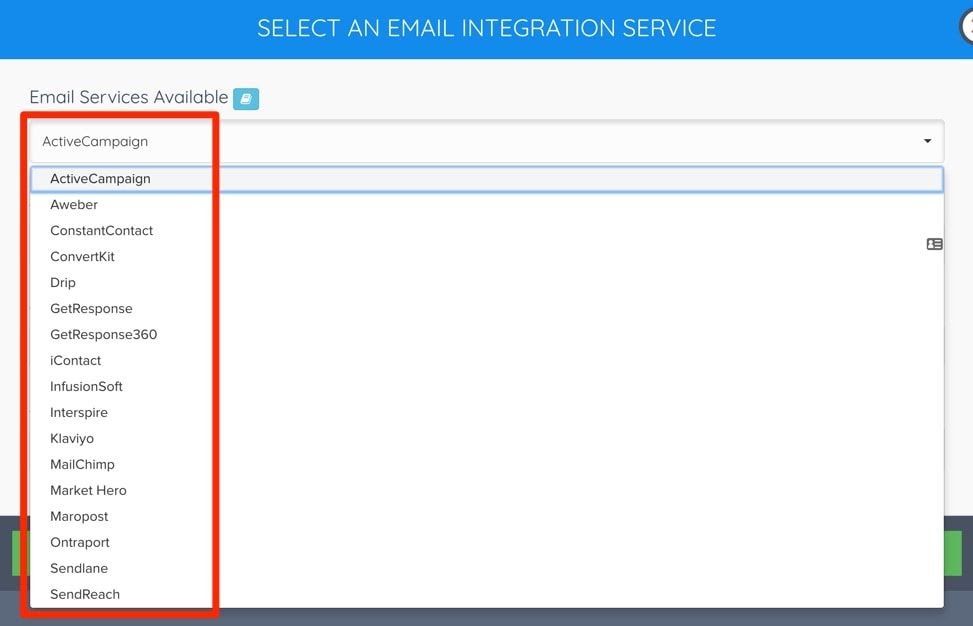 That being said, What would you do if you're selling online courses, and want to put host them somewhere?
Thankfully PayKickStart integrations with a lot of membership platforms.
You can hook up all your digital products with a lot of membership platforms, and you can find in the knowledge base how to integrate each one with PayKickStart.
Now, what about webinar integrations?
PayKickStart currently integrates with the following webinar platforms:

GoToWebinar
WebinarJam
EverWebinar
Zoom
Demio
Webinar Ignition,
WebinarJeo,

So if you're offering things like SaaS, online courses, and online memberships you will love how PayKickStart integrates the webinar platforms with the subscription business model.
To sum it all up you can really trust that PayKickStart will support you when it comes to integrating with other 3rd party platforms.
Besides this, PayKickStart integrates with Zapier that will allow you to connect it with 1000+ other tools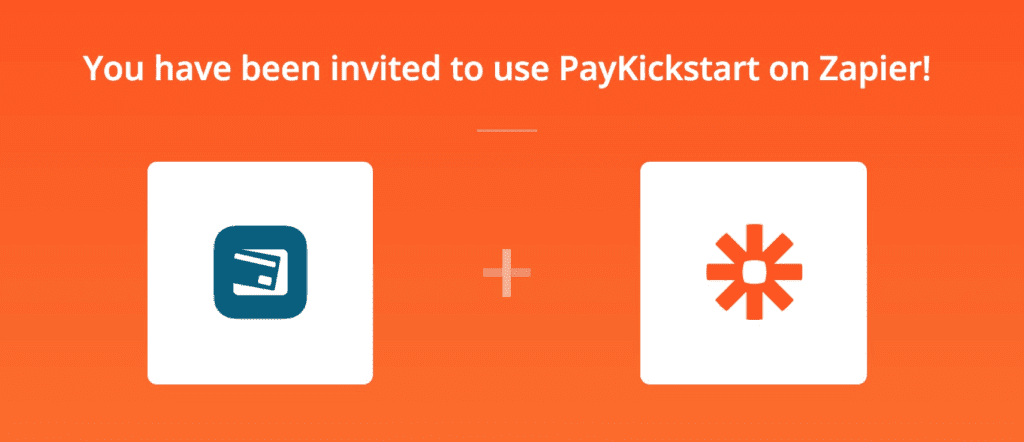 Now that we've also covered the most important integrations that you'll work, What would you say is also important for a shopping cart software?
How well does PayKickStart support its users right?
PayKickStart Support
It would be a complete review if I didn't take a look at how well PayKickStart's support team serves its customers, right?
So without further ado, let's just straight into everything their product offers that have to do with supporting you on your journey.
I'll just be honest with you and admit full-heartedly that when I'm trying new sales funnel software I always rely on their support to introduce me to their platform.
Because let's imagine that you're not that tech-savvy when just starting out, it's highly possible that you will hit some roadblocks.
You might have technical challenges (ex. you can't integrate your Email Autoresponder), or some questions when it comes to how to use the platform!
To be honest, PayKickStart's UI doesn't have the most intuitive navigation, but lucky for you, that's where their support options come in handy.
Now only that, but even before you choose any of PaykickStart's Payment plans, which we'll discuss in a moment, you can access their support center.
It consists of a Knowledge Base, Ticket Submission Center, Private Skype Group, and even a Facebook Group so that you always have the chance to stay connected with other vendors.
Knowledge Base – Let's first take a look at what's covered at it.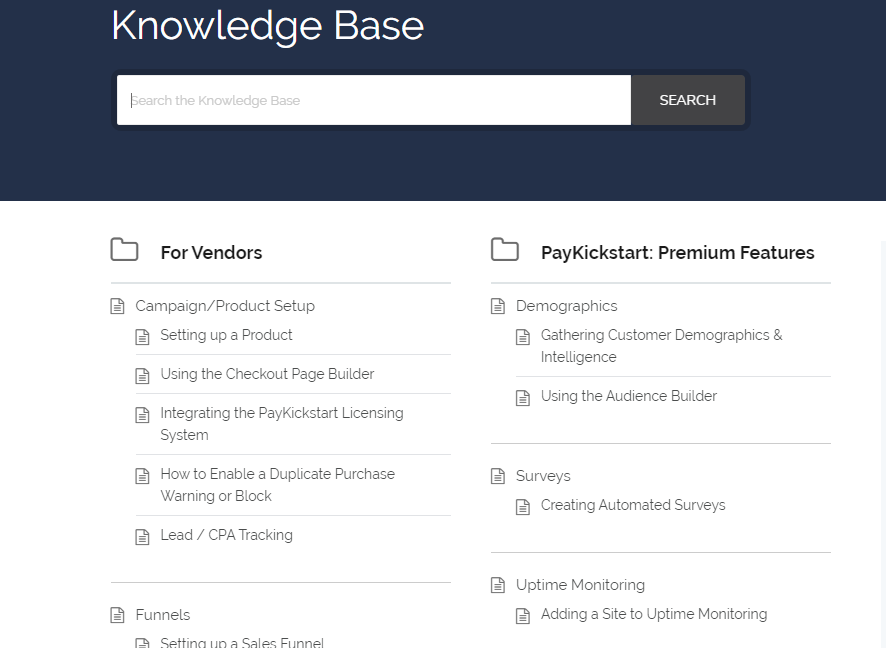 To support you in the process, PayKickStart offers 217 unique articles with simple step by step action plans separated into 31 different categories in their Knowledge Base, so you have everything you potentially need to learn.
In this small window, you can see options for chat (which wasn't available until recently!) and a "Popular Resources" section.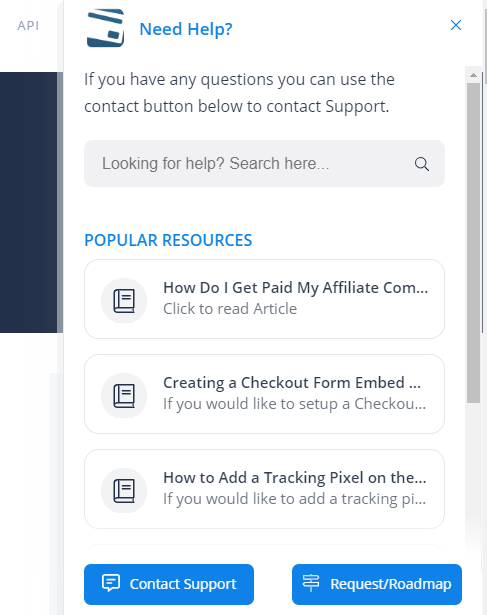 Support tickets – This is the easiest way to contact the customer support of PayKickStart and get their help with your issue.
Here, you can send a message through their support desk.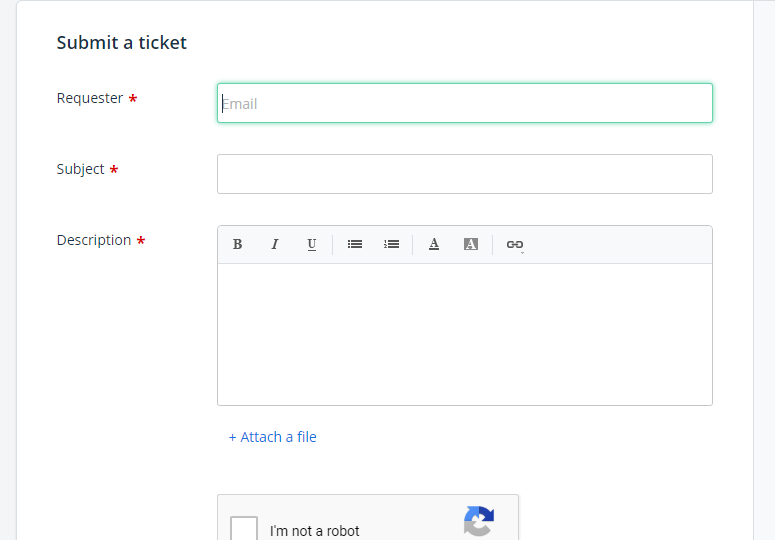 You can expect a reply quite fast and it might be even to here from PayKickStart's founders, which is quite extraordinary if you think about it.
Yet, this doesn't serve you when you have urgent issues that need to be solved.
Can you handle a situation of crisis, let's say a big product launch and you need some kind of immediate assistance?
Phone support – Unfortunately, PayKickStart doesn't offer any phone support to its customers.
But you can rely on their ticket, email and live chat support which is pretty good.
Live chat support – That's what I love most about their platform.
When you're already a registered member of PayKickStart's family, you can effortlessly contact one of their support members by clicking the chat head icon down at bottom-right.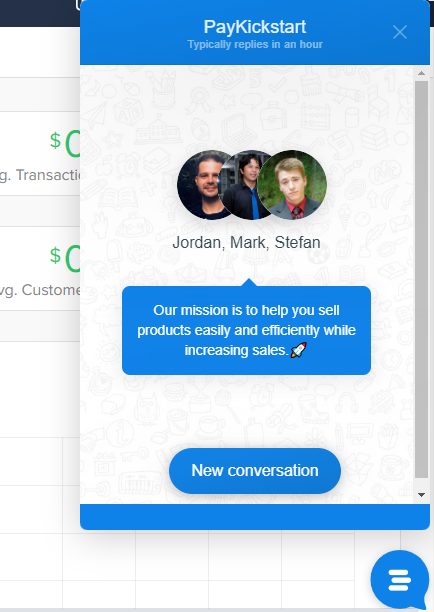 Facebook community – Now, if you're like me and you LOVE being part of a community, you will find this next section fascinating!
PayKickStart has an absolutely amazing Facebook group of over 3500+ members where you can network and engage ideas with other people using the platform.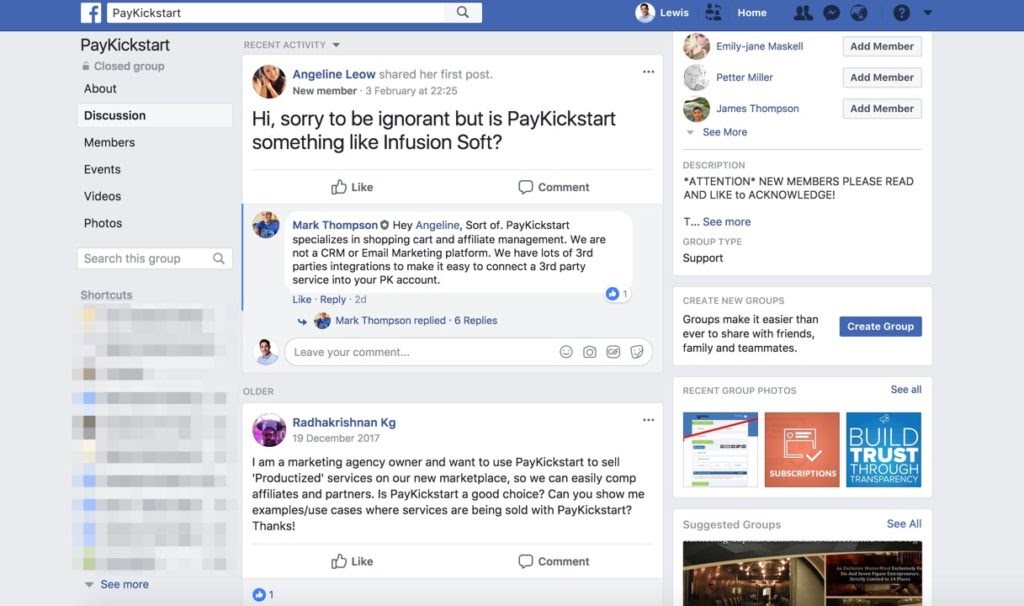 It's even better, for example when you post a case about a problem you have just a question you're curious about and if the founders get in touch and willingly offer their advice.
All great with the Support and all the features that the platform offers, but what about PayKickStart pricing?
That's what we'll discuss in the following section:
PayKickStart Pricing 
As said on PayKickStart's website, the platform offers Simple, Honest Pricing and I highly agree with that.
Considering all the features PayKickStart has to offer 3 simple payment plans and you can both pay monthly or annually (saving 20%).
Basic Plan – it starts at $29/month 
With the first plan, you can add up to five products, and PayKickStart also gives you access to their template library.
However, it doesn't allow you to have affiliates selling your products, but it's perfect if you're just starting out!
The basic plan also allows you to integrate with all 3rd party tools you might want.
Professional Plan – it starts at $99/month
What's different with this tier?
With this plan, you can sell an unlimited number of products.

And PayKickStart also allows you to use a lot of powerful tools that we've already discussed.
It's a great option if you're starting to scale your business so you can utilize all of the available features.
Premium Plan – it starts at $149/month
And now, lastly the Premium Paykickstart pricing plan.
This option is only worth it if you're to jump all in for enhanced and highly-optimized marketing, advanced website management tools, in-depth demographic analytics so that you can segregate your audience.
By doing so, in this plan, you can run personalized surveys using PayKickStart's audience builder and really prepare to scale BIG!
That said, no matter which payment plan you select, what's great about PayKickStart is that it doesn't have any paid trials like some of the other platforms.
You can get started with PayKickStart with their Free Trial, while you consider if you want to become part of their family.
You won't find any other tool that can compete with PayKickStart, in terms of features and usability.
And that's about the end of this PayKickStart review.
But, to make it complete, I'll just straight into the verdict.
In conclusion
Now, to give you my opinion if "PayKickStart is suitable for you?"
I can't say that, because you're responsible for your decisions, but having looked at all of PayKickStart's pros and cons, the value you get is definitely well worth it for the money you give in exchange.
I would highly recommend PayKickStart funnel builder if you're tired of paid trials and if you want to set up your product and starting to sell it.
Yet, to be as transparent as possible, I wouldn't recommend it if you don't like paying each month for your shopping cart.
If you want to power your Online Business with the Most Flexible Shopping Cart and Affiliate Management Platform, PayKickStart is the right option for you!
PayKickStart offers a solution:
if you have SaaS product
if you're selling Digital Goods
if you're a Physical Vendor
if you offer Memberships plans or even
if just scaling a service-oriented business
Lastly, before I leave off, I want to say that PayKickStart is trusted by a plethora of big brands like:
So, if you're like me and trust what others might have to say, PayKickStart is the right option for you.
Thank you for your time and if you have any questions, just comment down below, and I'll answer right back.
Start your Free Trial here.