In this Convertri review, you're going to learn how you can use this marketing platform to build the fastest loading landing pages on the planet.
I'm going to discuss the pros and cons of using Convertri as a landing page builder.
And I'm going to and dig deep into its core features and functionalities in this Convertri review.
You will see how you can use Convertri to build landing pages and why you might prefer to use Convertri vs ClickFunnels.
I'm going to do a full review of Convertri's impressive infrastructure, shopping cart solution, and templates.
Besides all of this, I'm also going to review all the integrations made with the platform and how you can connect Convertri with different tools.
I'm also going to discuss the support that they offer as well as their pricing so you know how much it's going to cost you to use it.
Convertri Features
Convertri as a landing page and sales funnel builder has some amazing features worth discussing here.
In this section, I'm going to review the features and discuss exactly why you might want to switch to Convertri because of them.
You might be a bit surprised by all of the things you can do with this platform.
As they offer features like page importer, pixel-perfect page builder, dynamic text replacement, A/B testing and so much more.
Now let's make a detailed review of all the features:
Pages – Convertri has an accelerated page technology that allows them to build the fastest loading landing pages on the market.
So that way even huge pages load in less than 3 seconds with Convertri.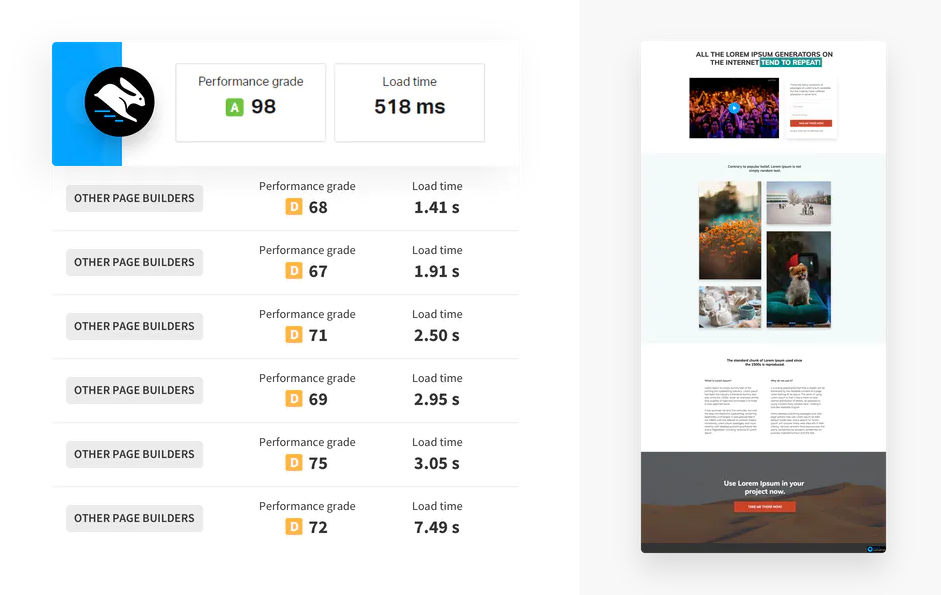 And when it comes to conversion rates page load speed matters a lot.
An only a 1-second delay in loading a page can lead to a 20% reduction in mobile conversions.
So that's why by having way faster loading pages with Convertri you will be able to convert more people into leads and customers.
Not to mention that you will save money on your ads because of your higher conversion rates.
One of the best things about Convertri is that migrating to their platform is a piece of cake.
If you already have existing pages you don't need to recreate them from scratch within Convertri.
Instead, you can simply use their Page importer who will automatically create a clone copy of your original landing page within Convertri.
Just provide the link and Convertri's Page Importer will do the rest.
In case, you need to build new pages you can use Convertri's page builder which is one of the most advanced on the market.
They don't use rows, sections, and columns. You can simply drag-and-drop any element and place it where you want it to be on the landing page.
This will give you the maximum freedom when it comes to designing your pages while at the same time making it extremely easy to do so.
Another cool thing about Convertri pages is that you can use something they call Action and Event hooks.
With their help, you can show, hide, and change elements on the page based on users' behavior.
And you can add all kinds of elements you want on your page:
Background videos
Countdown timers
Extra-fast videos (thanks to Convertri's video player)
Menus
Huge font sections
Facebook comments
Easy snap lines (to automatically adjust the elements of your page)
Precise positioning 
Multi-select
…and so on.
Really cool thing is that with Convertri you can have master Headers and Footers.
So once you make a change to it then it will be updated on all of your pages.
This can save you a lot of time because with most funnel builder platforms you would need to make the changes to each page manually.
Which is one of the reasons why I believe this is one of the best features of the platform.
Convertri also gives you Dynamic text replacement which could be extremely useful when it comes to increasing your conversion rates.
By using Convertri's dynamic text replacement tool, you can personalize your page and make it more relevant to your audience.
And last but not least, Convertri gives an amazing mobile experience to your customers.
Convertri automatically creates your mobile version of the landing page and let you make tweaks if you want to.
Besides that, you can make a separate mobile version of your page that is not going to affect your desktop version when you change things.
So in this review, I'm going to give Convertri's landing page builder a solid 8/10.
Mainly because of their accelerated page technology, the pixel-perfect builder and the dynamic text replacement tools
Templates – Convertri has hundreds of pre-built templates that you can use straight away so you don't have to start building your pages and funnels from scratch.
All of them have been built to load really fast and convert extremely well.
And, of course, you can customize these templates the way you want to and remove or add anything you want.
It's just a way to get started much faster.
First, you will see that they have pre-built funnels that you can use depending on your situation:
Software Funnel – designed to sell software products with video pages, upsells, downsells and customized checkout
Free-plus-shipping Funnel – designed to sell physical products with sections to include videos, features, benefits, etc.
Webinar Funnel – designed to create urgency and demand for the product or service that you're offering
Lead Gen Funnel – designed to make it easy for you to generate leads 
Info Funnel – designed to help you sell info products with VSLs, upsells, downsells, etc.
Besides all the funnels, Convertri gives you access to over 200 page templates that you can choose from.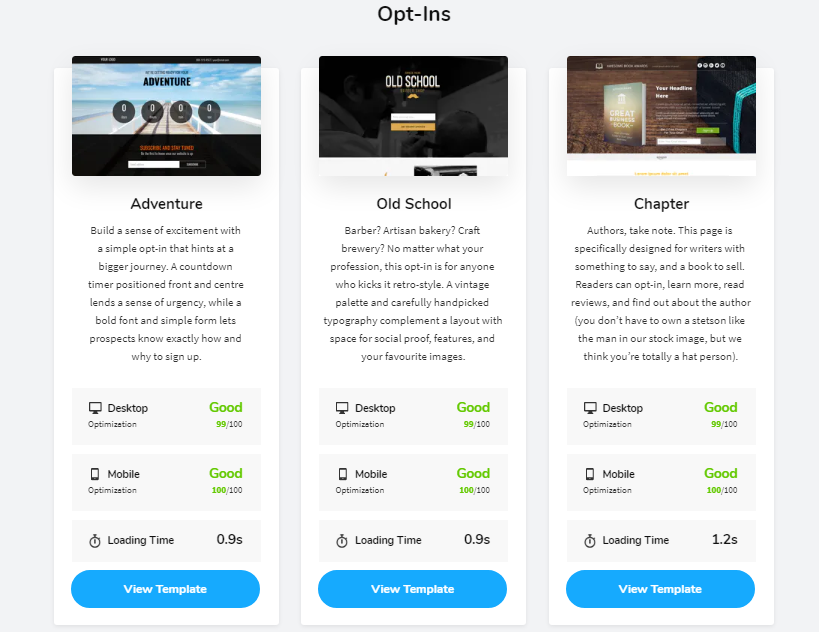 And you will see all kinds of pages:
Opt-in pages
Sales Letters
Coming Soon pages
Delivery
Thank You pages
…and so on.
What's really good is that for each page you will stats when it comes to how well they're optimized for desktop and mobile and how much is their load time.
And thanks to the accelerated page technology each one of them will load really fast. Which will lead to you having higher conversion rates and more sales.
So in this Convertri review, I will give their templates a solid 9/10 because they're easy to use and you know how well they perform in advance.
Shopping Cart – You can't have a high-converting sales funnel and landing pages without having an optimized shopping cart and checkout process.
That's why Convertri has its built-in shopping cart that already works with the platform and it converts really well.
And their shopping cart has some amazing features that help you maximize your sales.
One-click upsells – allowing your customers to purchase another product after the first one with just one click without the need to fill in credit card details again
2-step checkout – allowing you to collect contact information one step one and follow-up with leads if they didn't complete the transaction on step 2
Subscriptions – allowing you to setup recurring billing
Trial payments – allowing you to offer a free or paid trial for your product
Payment plans – allowing you to setup payment plans for your product
Bump sells – allowing you to increase your revenue with bump offers
Unlimited products – allowing you to setup all of your products within Convertri so you can add them later on to your order forms
Details reports – allowing to check stats like people who bought your products, when they bought them and what was the revenue
Easy lead export – allowing you to expert all of your leads into a CSV file
Custom checkout pages – allowing you to customize your check pages the way you want to match your brand and increase your conversion rates
Ready-Made Modal Checkouts – allowing you to use pre-built checkout templates so you don't have to create one from scratch
Webhook support – allowing you automatically grant or revoke access to your content when customers purchase, refund or cancel
And what's really good is that all of these things are really easy and fast to setup even if you're not a tech person.
So in this Convertri review, I would give this feature a solid 8/10.
Sub-accounts – Convertri knows that a lot of their users are actually agencies who work with clients.
And that's why Convertri has created the option for any agency user to create sub-accounts for their clients.
So each of their clients will have unique domains, funnels, pages, and integrations. They can even use different currencies.
To create a sub-account for a client you also need to enter their email and they will automatically get their login details.
At the same time, you will be able to easily switch between different sub-accounts in your account to make it easy for you to manage your clients.
And you can build funnels and sales pages directly in the sub-accounts of your clients.
At the same time, you're in control all the time and you can revoke access to any sub-account if your client stops paying you.
Infrastructure – the moment you use Convertri to publish your page it will automatically be assigned to an extremely reliable and fast custom-designed CDN.
The custom CDN is so rock-solid that it could support millions of dollars in sales and 100,000 hits per minute without even slowing down.
So you know that you can always rely on Convertri and your pages and sales funnel will never crash or slow down under the pressure.
Convertri provides you with the hosting of all of your pages and funnels so you won't need another provider for that.
With Convertri you also get a SSL certificate so you can setup secure pages on all of your domains.
You can also have custom domains and publish your pages and funnels over there.
What's also cool is that they have a WordPress plugin that allows you to install Convertri on your WordPress site with one click.
Pages are also published with lightning delivery – their pull-request time is less than 150 ms which is crazy.
You can also make speedy editing and once you make and publish changes to your page they will be available immediately through the system.
Your pages are also extremely well protected and once they're published no matter what happens with Convertri's system, they will stay active.
It's also worth mentioning that Convertri has some really cool SEO features.
First, you have the option for no-index on your pages a.k.a. your pages won't appear in the search results.
And Second, you can stop leaking the link juice by switching between do-follow and no-follow links.
In case any page breaks, you can also setup a custom 404 page and setup an offer on that page.
In fact, you're making your site, you can also use domain-level redirects and automatically send visitors from the old to the new domain.
And last but not least, you can use MX records access to host your pages within Convertri and still setup your emails on your domains.
Convertri Integrations
Convertri has a huge range of native API integrations.
Currently, you can integrate Convertri directly with the following tools:
Autoresponders – MailChimp, GetResponse, AWeber, ActiveCampaign, Sendlane, Drip, ConvertKit, Markethero, InfusionSoft, Platform.ly, Campaign Refinery, mailer, iContact, send.io, Smart Engine
Webinar systems – GoToWebinar, Webinar JEO, Demio, WebinarJam
Payment processors  – Stripe
Besides using APIs, there are a few other ways to connect 3rd party tools with Convertri:
HTML form integration – you can use this option when a standard API integration is not possible.
You can simply add the code and you will be able to connect your form with the platform.
Custom scripts – you can integrate tools by adding custom scripts in the body or the head of the page.
Just copy and paste it there and publish the page to make it work.
Zapier – by using Zapier you can also connect Convertri to hundreds of other apps.
So you never have to worry if Convertri doesn't have a native integration with your favorite tools.
Convertri Support
Now let's discuss the support that Convertri gives to their customers.
Knowledgebase – Convertri has created a knowledge base where you can learn everything about the platform.
There you can search to find the answers to the questions that you might have.
And you can also browse through the different categories to find useful articles that will teach you everything you need to know about a specific topic, product, or feature.
Currently, there are articles on topics like:
Actions and Events
Autowebinars
Clients and team members
Getting started with Webinars
Training Webinars
Videos
Convertri Editor
Creating and Using Funnels
Domain and Hosting
Forms And Services
Getting Started
Layers
Mobile Pages
Products And Payments
Q&A Webinars
And for each category, you're going to see a lot of step-by-step articles explaining to you exactly how to do things with both video and text.
Contact us form – one of the simplest ways to contact Convertri is through their contact form on their website.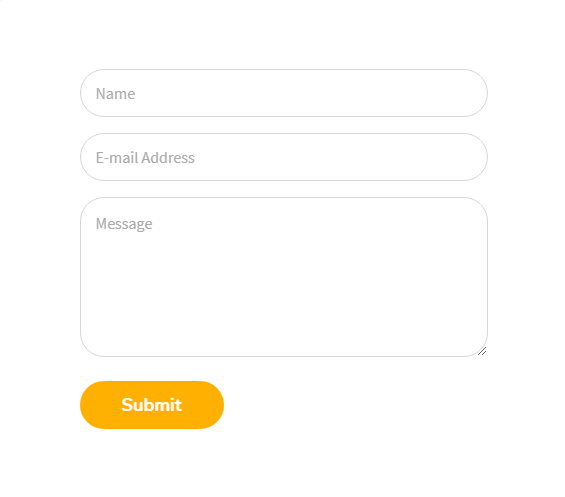 And after you send your message you can expect to hear from Convertri's team by email.
What I think is lacking here is that you can't leave your phone number to receive a call from them.
As well as you can't attach files such as screenshots to show them what type of problem you're facing right now.
You also can't select the type of problem you're facing from a list so you have a better person to contact you and give you better support.
Email support – there is also an option to contact the support of Convertri by email. 
Even though it's not listed on their contact us page for some reason.
If you need to contact them, you can send them a message at support@convertri.com.
Unfortunately, they don't provide any live chat support or phone support which I consider to be a huge miss.
Because it will be a faster way to deal with your technical issues. 
Facebook group – Convertri also has a small Facebook group of 5,895 at the moment of writing this Convertri review.
Even if their community is not as big as the ones of ClickFunnels, Kartra or Kajabi, you can still find help from others and get answers to your questions. 
Convertri Pricing
What I find a bit strange about Convertri is that they give you only one pricing plan to choose from. Which I haven't seen any other funnel builder do.
So you don't really have many options here.
Now let's discuss what's covered in this Convertri pricing plan and you can see how it differs from other page builders:
Standard plan – it costs $75 per month when paid monthly and $99 per month when paid monthly.
The plan also comes with a 14-day free trial so you can try Convertri before deciding if you want to invest it.
And if you want to cancel before that it's pretty easy and you won't be charged.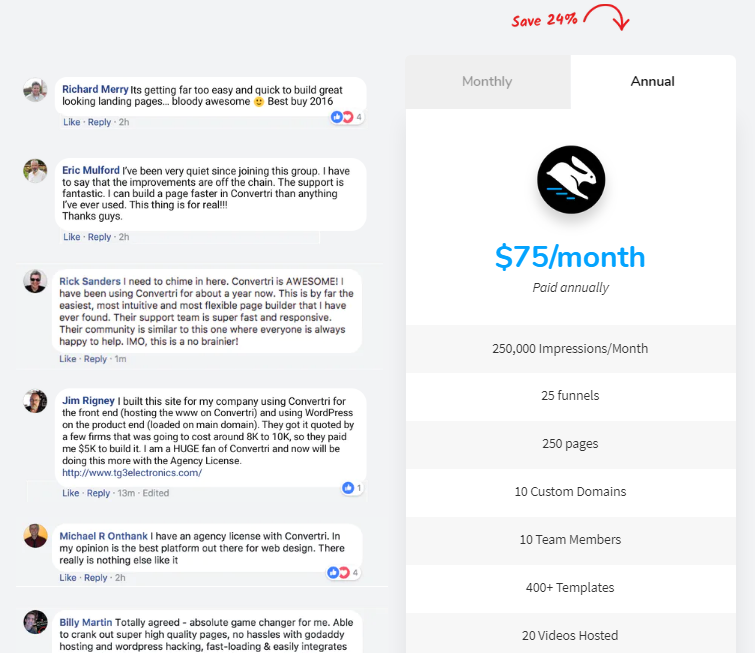 This pricing plan covers up to 250,000 impressions per month which I consider to be quite a lot.
Because with that much traffic you would probably be making a lot of money until you reach your limit.
Convertri also allows you to build up to 25 funnels and 250 pages.
For comparison ClickFunnels allows you to build only 20 funnels and 100 pages with their lowest plan which costs $97 per month.
So with Convertri, you get a bit more for a lower price.
You can also connect up to 10 domains which I consider to be a lot.
ClickFunnels only gives you 3 domains with their lower plan and to get 10 domains you need to upgrade to their $297 per month plan.
Besides all of this, you can host up to 20 videos and have 200GB video hosting storage.
It's worth mentioning that most landing page platforms don't have their own video hosting capabilities.
And with them, you would need to pay extra for a 3rd party solution like Wistia or Vimeo.
With Convertri this is covered in your pricing plan which can save you extra money on video hosting.
You also get the option to add up to 10 team members which are quite handy if you want to involve more people with your funnels.
In general, Convertri's plan covers pretty much everything you need to get started with building landing pages and sales funnels and to start making money online. 
What if you need more – as you scale up your business it is normal that you might need more than Covertri offers in their plan.
It's important to know that as your traffic grows and you reach your limit, they won't automatically cut you off.
Which we all know could be really bad for your business.
Instead, Convertri will send you an email and will give you an option to purchase extra traffic for your account.
For example: you can buy 250k additional impressions for $30.
However, it is unclear what happens if you want more funnels, pages, and domains within your Convertri account.
If this is the case, maybe it's best to contact support and to ask them out about this.
In my opinion, they could have created a higher-tier plan that gives you unlimited sales funnels, landing pages, and domains.
Because as most people grow their businesses they would probably need it.   
In Conclusion
Convertri as a sales funnel and a landing page builder came out of nowhere.
And despite the very strong competition in the market by other page builders like ClickFunnels, Kartra, Kajabi they managed to position themselves extremely well.
Convertri understood that the one thing that customers are looking for are fast loading landing pages.
Unfortunately, most tools can't give them that.
This is when Convertri decided to invest in developing the fastest loading page builder on the planet.
And right now most of their pages load for less than 3 seconds. No matter how big and heavy they are.
Convertri also made the transition to their platform extremely easy with their Page Importer tool.
But besides just providing speed, Convertri comes with amazing features too.
They have an easy to use page builder, integrated shopping cart, and one of the best infrastructures of any platform I've seen.
They have a dynamic text replacement tool that allows you to personalize your page depending on your audience.
They have great A/B testing functionality that allows you to compare difference versions of your page and see which one converts better.
… and so on.
And all of this comes with a very affordable price.
The only thing that's missing for me is the chat and phone support.
But you can still contact Convertri by sending a message via their contact form or by sending them an email.
So if your goal is to have faster-loading pages then you should definitely sign up for a free trial and try Convertri.